Footbridge 2017 Berlin - Tell A Story
Conference Proceedings 6-8.9.2017 TU-Berlin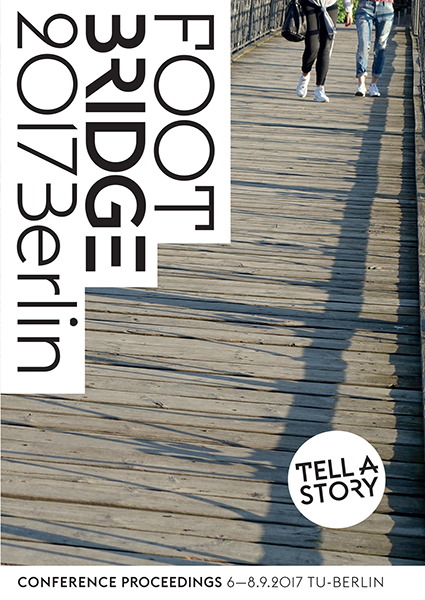 Editor(s):

Mike Schlaich




Arndt Goldack



Medium:
conference proceedings
Language(s):
English
ISBN-13:
978-3-9818968-0-0
Publisher:
Chair of Conceptual and Structural Design, Fachgebiet Entwerfen und Konstruieren – Massivbau, Technische Universität Berlin
Published in:

Berlin

, Germany
Conference:
Footbridge 2017 Berlin - Tell A Story, 6-8.9.2017, Technische Universität Berlin (TU Berlin)
Page(s):
432
Year:
2017
DOI:
10.24904/footbridge2017
Cover:
soft-cover (paper binding)
Keywords:
Purchase from:
License:

This creative work is copyrighted. The copyright holder(s) do(es) not grant any usage rights other than viewing and downloading the work for personal use. Further copying or publication requires the permission of the copyright holder(s).
Articles
Author(s)
Title
Page(s)

Adachi

,

Kotaro

Scissoring Origami Inspired Deployable Bridge for a Disaster

Allaert

,

Bart F.

Advanced Corrosion Protection of Structural Tension Members

Anderson

,

John R.B.

Designing for the Realities of a Day in the Life of a Good Looking but Hardy Footbridge

Andrasi

,

Katalin

Harlech Castle Footbridge - A Structure that Connects the Past with the Present

Angelmaier

,

Volkhard

Winning or Not - In Competition, the Journey is the Reward

Archbold

,

Paul

Design, Construction and Dynamic Analysis of a Laboratory-Scale FRP Composite Footbridge

Bartoli

,

Gianni

Wind Tunnel Tests and Full-Scale Measurements on a Cable-Stayed Footbridge

Bastos

,

Renato O.

Playing Structural Efficiency with Architects

Batliboi

,

Ratan J.

Changing Paradigm of Indian Footbridges: From Connectors to Destinations

Baumann

,

Katrin

The KuBAaI Footbridges In Bocholt / Germany – The Client's Wish to Use Low Maintenance Materials

Beade-Pereda

,

Héctor

St. Philips Pedestrian and Cyclist Bridge in Bristol
A Holistic Aesthetic, Structural and Functional Design

Bednarski

,

Cezary M.

Turning Heads in Gdansk

Beers

,

Frank

Vertical Accelerations due to Joggers of a Short Span Footbridge

Benedetti

,

Renato

Tripod Footbridge, Terni (Italy)
The Bridge as a Public Realm Driver of Urban Regeneration

Biliszczuk

,

Jan

Example of an Urban Footbridge – A Safe Way Home

Biliszczuk

,

Jan

Structures on Pedestrian and Bicycle Paths in Historic Parts of Cities

Blok

,

Rijk

Fully bio-based-composite footbridge: Strain monitoring during use phase

Borek

,

Dawid

Footbridges Load Tests in Poland: History, Regulations, Examples, Results

Bouleau

,

Etienne

A Rippled Footbridge Accessible for All

Brandstötter

,

Rudolf

Schlosssteg 2.0

Brasil

,

Reyolando

Effect of Pretension on the Dynamic Response of Footbridges

Brownjohn

,

James M. W.

Footbridge Dynamic Performance Assessment Using Inertial Measurement Units
18-27

Brownlie

,

Keith

Taste
A World of Difference
28-35

Burnton

,

Peter

Elizabeth Quay Pedestrian Bridge, Perth - The Jewel of the Quay

Burnton

,

Peter

Jubilee Bridge in the Heart of Singapore

Caetano

,

Elsa

Application of the Tuned Mass Damper Concept to the Modelling of Pedestrian-Structure Interaction

Capart

,

Hervé

Education of Future Builders Through Footbridge Design to Construction Projects

Capellán

,

Guillermo

Design of Raos Footbridge over the A-67 Motorway, Santander (Spain)

Chassagne

,

Pierre

La Passerelle du Marché – Maisons-Laffitte

Chew

,

Khai Seng

The Golden Bridge - A Footbridge Over the Sarawak River

Chikahiro

,

Yuki

Fundamental Study on Dynamic Property of Deployable Emergency Bridge Using Scissors Mechanism

Conzett

,

Jürg

Crossing the Viamala Gorge

Conzett

,

Jürg

A Park with Bridges
"Murgauenpark" Frauenfeld, Switzerland

Corbal

,

Jesús J.

Shared Platform Footbridges in Rural Environments
Footbridge Over Miño River in Os Peares (Ourense)

Cosentino

,

Nicola

Wind and Pedestrian Vibration Assessment on the New Swan River Pedestrian Bridge

CUI

,

Chuanjie

Vibration Analysis of a Long-Span Bridge with a Suspended Pavement System (SPS) Caused by the Vehicle Excitation

Czwikla

,

Benjamin

Perceptibility of Vibrations by Pedestrians

D'Haeseleer

,

Pieter

OO2804 A footbridge over the Watersportbaan in Ghent

Dey

,

Pampa

Key Findings from Serviceability Studies on Aluminum Footbridges

Díaz

,

Iván M.

Computing Serviceability Vibration Predictors for an In Service Footbridge

Ernst

,

Christian

Design at the Edge - Bridge Parapets

Fang

,

Yafei

One Pedestrian Suspension Bridge With Spatial Unilateral Hangers and Twin Curved Decks in Shanghai

Filkovic

,

Ivan

Footbridge Design as an Act of Inexperience

Firus

,

Andrei

Investigation of the Human-Structure Interaction on a Full Scale Experimental Footbridge

Font

,

Xavier

Management of Constraints to Create Meaningful Places
New Footbridge over the River Mogent in Montornès del Vallès

Furtak

,

Marcin

Natural and Landscape Inspirations in Designing of Modern Footbridges

Garcia-Troncoso

,

Natividad

Dynamic Response of Girder Footbridges with Supplemental Damping

Geyer

,

Silvia

Dubai Canal Footbridges: An Engineering Reply to a Stunning Architectural Challenge

Goberna

,

Gonzalo

Combined Cable Stayed-Stress Ribbon Bridges

Goldack

,

Arndt

Time-Frequency-Based Analysis of Pedestrian Induced Vibrations Using a Two-Step Clustering Approach

Goorts

,

Kevin

Towards Deployable, Autonomous, Vibration Control Systems for Lightweight Footbridges

Guisasola

,

Mario

Bicontentio Sinus Footbridge in Martutene (San Sebastián)

Hama

,

Yuta

Origami Inspired Deployable &Movable Bridge for Disaster Relief

Hawryszków

,

Paweł

Architectural Concept of a Cable-Stayed, Moveable Footbridge

Henriksen

,

Jesper B.

The Future Transportation Node Køge North Station

Herr

,

Christiane M.

Teaching Architects to Design Pedestrian Bridges

Hogger

,

Jacqui A.

Innovation in Providing a Solution to River Scour

Hsieh

,

Pei-Chen

Design of a Stress Ribbon Glulam Footbridge Across a Steep Forest Torrent

Humar

,

Gorazd

The book "Footbridges - Small is Beautiful"

Jensen

,

Poul Ove

Walking on a spider's web
Sofie's Bridge

Jirasek

,

Robert

Model-Based Active Vibration Control for Next Generation Bridges Using Reduced Finite Element Models

Jorquera-Lucerga

,

Juan José

A Conceptual Approach to Design Of Funicular Spatial Arches In Footbridges

Kadel

,

Mathias

Adventure Art Construction

Kalny

,

Milan

Cable-Stayed Footbridge with UHPC Deck in Celakovice

Karagiannis

,

Demis

Dafne Schippersbrug: Design and construction

Ke

,

Lu

Fuzzy Probabilistic Method of Footbridge Vibration Serviceability Assessment Under Pedestrian Loads

Keil

,

Andreas

Bridges at Night
How to Light a Bridge?

Keil

,

Andreas

Footbridge Flugfeld Böblingen Sindelfingen
Client and Designer in Cooperation

Keil

,

Andreas

Passerelle de la Paix, Lyon
A Story About the Effort to Appear Effortless

Klähne

,

Thomas

The Observation Point "Wolkenhain" - Bridge as well as Tower: A New Landmark in Berlin

Knight

,

Martin

BIM and the Art of Motorcycle Maintenance

Kok

,

Adriaan

Design of Movable Bridges - Selected Examples

Kok

,

Adriaan

Dutch Design Guide for Bicycle and Pedestrian Bridge Design

Lei

,

Jun

Structural System Identification of Pedestrian Bridges by Observability Method

Liu

,

Zehui

Control of Human-Induced Vibration of Footbridge Using Tuned Mass Dampers Designed by LQR Algorithm

Lozano-Galant

,

Jose A.

Modelling Construction of Footbridges with Cables

Luczkowski

,

Marcin

Why we Will all be Looking for a new Job Soon. True Story Based on Study Case of Orkdal Footbridge

Majowiecki

,

Massimo

Swan River Pedestrian Bridge in Perth - Structural Design Story from the Concept to the Construction

Mandal

,

Bibekananda

An Equivalent Homogeneous Model for FRP Sandwich Bridge Deck Panels with Sinusoidal Cores

Manfroni

,

Odine L.

"Tripod" Footbridge in Terni (Italy): On site Dynamic Characterization and Numerical Investigation of Lock-In

Manum

,

Bendik

The Rollout Stress Ribbon Bridge

Marginson

,

Andrew P.

The Refurbishment of Llangollen Chainbridge

Markelj

,

Viktor

Footbridge in the Old Centre of Ljubljana or How Thin Can Bridge Be

McNeil

,

John

Mangere Arch Footbridge, Auckland, New Zealand
Design of a 60m Tied Arch, Harbour Crossing

Meinhardt

,

Christian

Experimental Investigation of the Vibration Susceptibility of Footbridges for Subcritcal Vibration Modes

Mendoza

,

Marco A.

Evaluation of the Experimental and Analytical Dynamic Response of Pedestrian Bridges

Miebach

,

Frank

Solid Timber Bridge Constructions

Mimram

,

Marc

Infrastructure to Create Value
36-42

Mohr

,

Steffen

Six Languages and Cultures for the Design & Construction of a new Cable-Stayed Pedestrian Bridge at Algiers Bay

Müller

,

Thomas

More than a Footbridge - The new Baakenhafen Crossing
Complexity of Developing a Multi-Functional Structure in an Urban Context

Mundet

,

Guillem Collell

Sublimation (Footbridge Transition)

Nimmen

,

Katrien Van

Experimental Verification of the Dynamic Performance of a Footbridge Under High Pedestrian Densities

Nitschke

,

Ian

Restoration of the Iconic Shaw Bridge

Oliveira

,

Benedito T.

Restoration of the Bridges of Ouro Preto, Minas Gerais - MG, Brazil

Oliver

,

Alistair

Falmer High Level Walkway

Oskarsson

,

Kristjan U.

Markarfljot Footbridge - A Slender Long Span Suspension Bridge in Windy Surroundings

Pages

,

Yves

"Passerelle du Millénaire", Paris

Pańtak

,

Marek

Partial Squats – The Dynamic Load of the Footbridges

Paraskeva

,

Themelina S.

Easily Constructable Bamboo Footbridges for Rural Areas

Park

,

Cheolung

Design and Vibration Serviceability Evaluation of Pedestrian Space Arch Bridge

Patrón

,

Alberto

Design of 10 Footbridges in New Highway "Express Pass of Cuernavaca", Mexico

Pellegrini

,

Lara

Sustainable Pedestrian Bridge Using Advanced Materials (SUPERBAM)

Pereira

,

Samara P.

Numerical Analysis of Vibrations in Suspension Footbridge Under Pedestrian Traffic

Perse

,

Sophia

Pre-Design of a Modular Footbridge System with Pre-tensioned CFRP Reinforcement

Quappen

,

Sören

Crossing Hamburg's Historic Schleusengraben with a Swing – Landscape as the Governing Factor

Rabiega

,

Józef

History of the Reconstruction and Modernization of the Bolko Island Pedestrian Bridge in Opole

Ramos-Moreno

,

Caterina M.

Serviceability Response of a Benchmark Cable-Stayed Footbridge: Comparison of Available Methods' Prediction

Reimer

,

Andreas

The Saw-Tooth Connector: An Effective Joint-Element for Slender Concrete Decks

Rempel

,

Sergej

Extremely Light and Slender Precast Pedestrian-Bridge Made out of Carbon-Concrete

Ren

,

Lisha

Creative Design Resource: Revelation on Footbridge of Jörg Schlaich

Ren

,

Lisha

Parametric Design for Footbridge: A Case Study

Reyher

,

Boris

Difficult Roots and Happy Ends - How to Master the Design Process

Rinke

,

Mario

The modern engineer's Janus face: Delivering Reliability and Mystification

Rokach

,

Isaak

Beer Sheva Footbridge, Rokach-Ashkenazi Engineers

Romo

,

José

Zabalgana Footbridge Over Madrid-Irún Railroad in Vitoria

Rosales

,

Miguel

Moody Pedestrian Bridge
University of Texas in Austin, TX, US

Sahnaci

,

Ceyhun

A Full Probabilistic Model for Loads Induced by Walking

Sahnaci

,

Ceyhun

Performance of MTMD Systems Based on Realistic Load Contributions due to Walking

Saige

,

David

Vibration Control of Footbridges Under Pedestrian Loading Using Tuned Mass Damper Systems with Eddy Current Damper Technology

Sarkis

,

Ana I.

He Kōrero Takiwā, He Takiwā Kōrero / Stories Within Spaces, Spaces Defined by Stories: Footbridge Design Concept, Christchurch, New Zealand

Sarkisian

,

Mark

An International Arrival: The Collaborative Design of an Iconic Airport Footbridge

Sarkisian

,

Mark

Long-Span Pedestrian Bridges in the USA - A Futuristic Approach

Schanack

,

Frank

Diatomea Footbridge - Integrating Modern Infrastructure into a National Park in Chile

Schreinemachers

,

Michel

NEXT Connects: Bridges as Socio-Cultural Practices

Segal

,

Edward M.

A Polyester-Rope Suspended Footbridge in Ait Bayoud, Morocco
Structural Analysis and Key Details

Servais

,

Vincent

"Belle Liégeoise", the new Footbridge in Liège

Setareh

,

Mehdi

Study of the Group Effects on the Vibration Serviceability of Slender Footbridges

Siotor

,

Igor G.

State of the Art new Products and Methods for Cable Bridges Small and Big

Siviero

,

Enzo

The Bridge of the Dialogue in Chiavenna (Italy)

Siviero

,

Enzo

The School of Bridge Design in Ecampus, Como, Italy

Smith

,

Craig

Ailsa Wharf Footbridge: Creativity Through Collaboration

Sobrino

,

Juan

Fort York Pedestrian Bridges in Toronto. The Two First Duplex Stainless Steel Bridges in North America

Soria

,

José M.

Long-Term Vibration Serviceability Assessment of a Steelplated Stress-Ribbon Footbridge

Strasky

,

Jiri

Footbridges with Prestressed Concrete Decks
44-53

Strobl

,

Wolfgang

A Walkable Sculptural Structure
Stress Ribbon Bridge at Tirschenreuth, Germany

Strydom

,

John

Weiterleiten Bridge
Forward Through Unity

Tam

,

Matthew

Intelligent Fabrication - Digital Bridges

Tandon

,

Mahes

New Generation of Footbridges for Delhi, India

Tanner

,

Peter

Paper and Pencil in the Age of BIM. Design and Construction of the Butarque Footbridge

Teng

,

Jun

Implementation of a Dynamic Monitoring System for an Butterfly Arch Footbridge

Thie

,

Edwin

The Future of the Footbridge Engineer in the Purpose Economy

Torsing

,

Rob

Bicycle and Pedestrian Bridge Sittard-Geleen

Tosini

,

Luciano

Towards a Fully Digital Modelling of Steel Joints at ULS

Totaro

,

Andrea

Testing Major Footbridges in Italy

Trojaborg

,

Steen Savery

Rethinking Cities

Valdovinos

,

Schaun

Economic Approach to Damping Trail-Style Footbridges

Vicente

,

Miguel A.

Dynamic Considerations in Case of Footbridges with Elevators

Vivas

,

Julio

How to Make the Largest Footbridge Over a Motorway in Spain… (In Timber)

Wagner

,

Marlene

Bridging Mzamba – Perspectives on Trans-Disciplinary and Cross-Cultural Implementation Process

Walgenwitz

,

Lucile

The John V. Tunney Bridge: A New Courtyard Connection for the Hammer Museum

Wang

,

Dalei

Assessment of Vibration Serviceability of a Large-Span Cable-Supported Footbridges in the Scenic Area

Wang

,

Minquan

Difficulties Encountered During the Construction of Qingchun Irregular-Shaped Footbridge

Watanabe

,

Ryuichi

Dejima Footbridge, Making a Connection in the 400 Years' History
A Study on Cultural Meaning of Building Contemporary Bridge

Weber

,

Felix

New Real-Time Controlled Semi-Active Tuned Mass Damper for Human, Vortex and Wind Excitations

Wing

,

Mark

Our Story Continues
Genesis of a Footbridge From a Community Perspective

Wojnarski

,

Lukasz

Kai Tak Landscaped Deck - Concept Design

Zäll

,

Emma

The Effect of Runners on Footbridges - A Case Study

Zatar

,

Wael

Demonstration Footbridges Made of Ultra-High-Performance Concrete and FRP Composites

Zhang

,

Qilin

Design, Construction and Health Monitoring for a Large Span Pedestrian Bridge

Zhang

,

Tianhao

A Novel Concept for a Cable-Stayed Movable Footbridge

Zhong

,

Jingru

Vertical Vibration of Complex and Slender Footbridges due to Stochastic Crowd-Induced Excitation

Živanović

,

Stana

Vibration Performance of Two FRP Footbridge Structures in the United Kingdom

Zoltowski

,

Krzysztof

Footbridges. Dynamic Design – Selected Problems
Structure Types