The Golden Bridge - A Footbridge Over the Sarawak River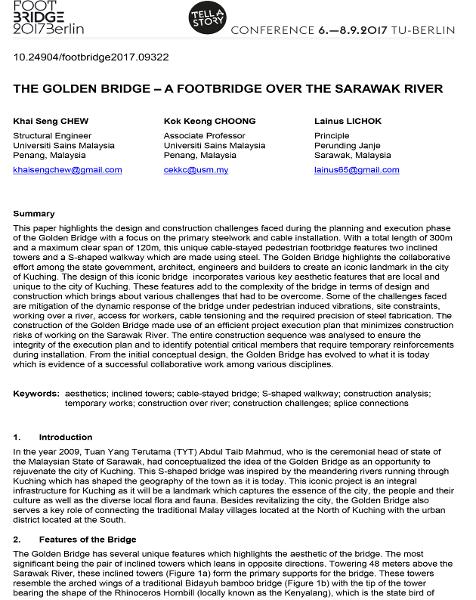 Author(s):

Khai Seng Chew




Kok Keong Choong




Lainus Lichok



Medium:
conference paper
Language(s):
Conference:
Footbridge 2017 Berlin - Tell A Story, 6-8.9.2017, Technische Universität Berlin (TU Berlin)
Published in:
Footbridge 2017 Berlin - Tell A Story
Year:
2017
DOI:
10.24904/footbridge2017.09322
Abstract:

This paper highlights the design and construction challenges faced during the planning and execution phase of the Golden Bridge with a focus on the primary steelwork and cable installation. With a total length of 300m and a maximum clear span of 120m, this unique cable-stayed pedestrian footbridge features two inclined towers and a S-shaped walkway which are made using steel. The Golden Bridge highlights the collaborative effort among the state government, architect, engineers and builders to create an iconic landmark in the city of Kuching. The design of this iconic bridge incorporates various key aesthetic features that are local and unique to the city of Kuching. These features add to the complexity of the bridge in terms of design and construction which brings about various challenges that had to be overcome. Some of the challenges faced are mitigation of the dynamic response of the bridge under pedestrian induced vibrations, site constraints, working over a river, access for workers, cable tensioning and the required precision of steel fabrication. The construction of the Golden Bridge made use of an efficient project execution plan that minimizes construction risks of working on the Sarawak River. The entire construction sequence was analysed to ensure the integrity of the execution plan and to identify potential critical members that require temporary reinforcements during installation. From the initial conceptual design, the Golden Bridge has evolved to what it is today which is evidence of a successful collaborative work among various disciplines.

Keywords:

aesthetics

cable-stayed bridge

temporary works

inclined towers

S-shaped walkway

construction analysis

construction over river

construction challenges

splice connections

License:

This creative work is copyrighted. The copyright holder(s) do(es) not grant any usage rights other than viewing and downloading the work for personal use. Further copying or publication requires the permission of the copyright holder(s).
Structures and Projects
Structure Types
Geographic Locations