Easily Constructable Bamboo Footbridges for Rural Areas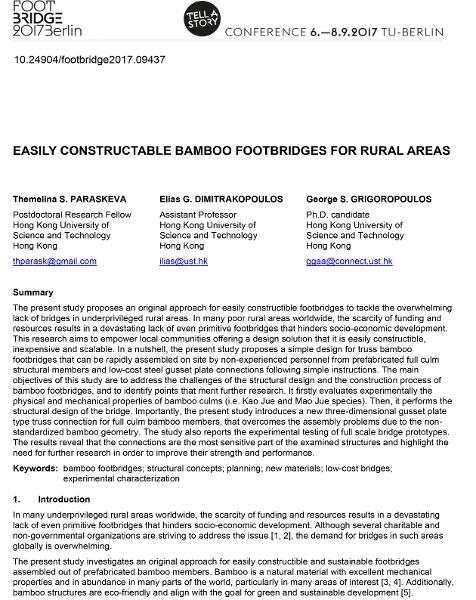 Author(s):

Themelina S. Paraskeva




Elias G. Dimitrakopoulos




George S. Grigoropoulos



Medium:
conference paper
Language(s):
Conference:
Footbridge 2017 Berlin - Tell A Story, 6-8.9.2017, Technische Universität Berlin (TU Berlin)
Published in:
Footbridge 2017 Berlin - Tell A Story
Year:
2017
DOI:
10.24904/footbridge2017.09437
Abstract:

The present study proposes an original approach for easily constructible footbridges to tackle the overwhelming lack of bridges in underprivileged rural areas. In many poor rural areas worldwide, the scarcity of funding and resources results in a devastating lack of even primitive footbridges that hinders socio-economic development. This research aims to empower local communities offering a design solution that it is easily constructible, inexpensive and scalable. In a nutshell, the present study proposes a simple design for truss bamboo footbridges that can be rapidly assembled on site by non-experienced personnel from prefabricated full culm structural members and low-cost steel gusset plate connections following simple instructions. The main objectives of this study are to address the challenges of the structural design and the construction process of bamboo footbridges, and to identify points that merit further research. It firstly evaluates experimentally the physical and mechanical properties of bamboo culms (i.e. Kao Jue and Mao Jue species). Then, it performs the structural design of the bridge. Importantly, the present study introduces a new three-dimensional gusset plate type truss connection for full culm bamboo members, that overcomes the assembly problems due to the nonstandardized bamboo geometry. The study also reports the experimental testing of full scale bridge prototypes. The results reveal that the connections are the most sensitive part of the examined structures and highlight the need for further research in order to improve their strength and performance.

Keywords:

structural concepts

Planning

new materials

bamboo footbridges

low-cost bridges

experimental characterization

License:

This creative work is copyrighted. The copyright holder(s) do(es) not grant any usage rights other than viewing and downloading the work for personal use. Further copying or publication requires the permission of the copyright holder(s).
Structure Types