Playing Structural Efficiency with Architects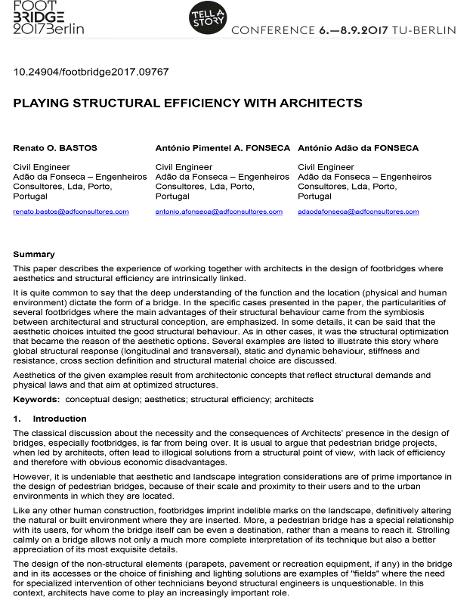 Author(s):

Renato O. Bastos




António Pimentel Adão da Fonseca




António Adão da Fonseca



Medium:
conference paper
Language(s):
Conference:
Footbridge 2017 Berlin - Tell A Story, 6-8.9.2017, Technische Universität Berlin (TU Berlin)
Published in:
Footbridge 2017 Berlin - Tell A Story
Year:
2017
DOI:
10.24904/footbridge2017.09767
Abstract:

This paper describes the experience of working together with architects in the design of footbridges where aesthetics and structural efficiency are intrinsically linked.

It is quite common to say that the deep understanding of the function and the location (physical and human environment) dictate the form of a bridge. In the specific cases presented in the paper, the particularities of several footbridges where the main advantages of their structural behaviour came from the symbiosis between architectural and structural conception, are emphasized. In some details, it can be said that the aesthetic choices intuited the good structural behaviour. As in other cases, it was the structural optimization that became the reason of the aesthetic options. Several examples are listed to illustrate this story where global structural response (longitudinal and transversal), static and dynamic behaviour, stiffness and resistance, cross section definition and structural material choice are discussed.

Aesthetics of the given examples result from architectonic concepts that reflect structural demands and physical laws and that aim at optimized structures.

Keywords:

aesthetics

conceptual design

architects

structural efficiency

License:

This creative work is copyrighted. The copyright holder(s) do(es) not grant any usage rights other than viewing and downloading the work for personal use. Further copying or publication requires the permission of the copyright holder(s).
Structures and Projects