The John V. Tunney Bridge: A New Courtyard Connection for the Hammer Museum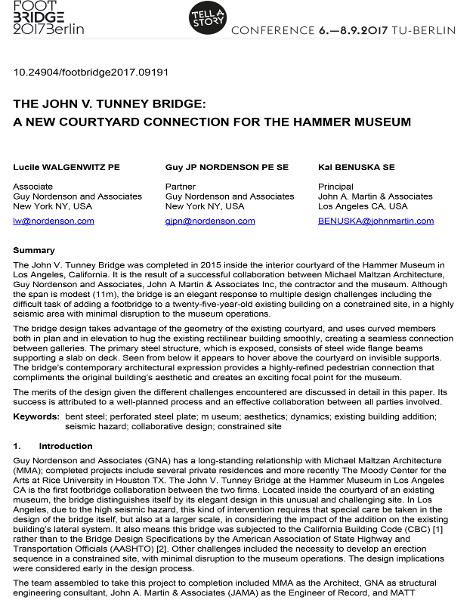 Author(s):

Lucile Walgenwitz




Guy J. P. Nordenson




Kal Benuska



Medium:
conference paper
Language(s):
Conference:
Footbridge 2017 Berlin - Tell A Story, 6-8.9.2017, Technische Universität Berlin (TU Berlin)
Published in:
Footbridge 2017 Berlin - Tell A Story
Year:
2017
DOI:
10.24904/footbridge2017.09191
Abstract:

The John V. Tunney Bridge was completed in 2015 inside the interior courtyard of the Hammer Museum in Los Angeles, California. It is the result of a successful collaboration between Michael Maltzan Architecture, Guy Nordenson and Associates, John A Martin & Associates Inc, the contractor and the museum. Although the span is modest (11m), the bridge is an elegant response to multiple design challenges including the difficult task of adding a footbridge to a twenty-five-year-old existing building on a constrained site, in a highly seismic area with minimal disruption to the museum operations.

The bridge design takes advantage of the geometry of the existing courtyard, and uses curved members both in plan and in elevation to hug the existing rectilinear building smoothly, creating a seamless connection between galleries. The primary steel structure, which is exposed, consists of steel wide flange beams supporting a slab on deck. Seen from below it appears to hover above the courtyard on invisible supports. The bridge's contemporary architectural expression provides a highly-refined pedestrian connection that compliments the original building's aesthetic and creates an exciting focal point for the museum.

The merits of the design given the different challenges encountered are discussed in detail in this paper. Ist success is attributed to a well-planned process and an effective collaboration between all parties involved.

Keywords:

aesthetics

museum

dynamics

bent steel

perforated steel plate

existing building addition

seismic hazard

collaborative design

constrained site

License:

This creative work is copyrighted. The copyright holder(s) do(es) not grant any usage rights other than viewing and downloading the work for personal use. Further copying or publication requires the permission of the copyright holder(s).
Structures and Projects