Example of an Urban Footbridge – A Safe Way Home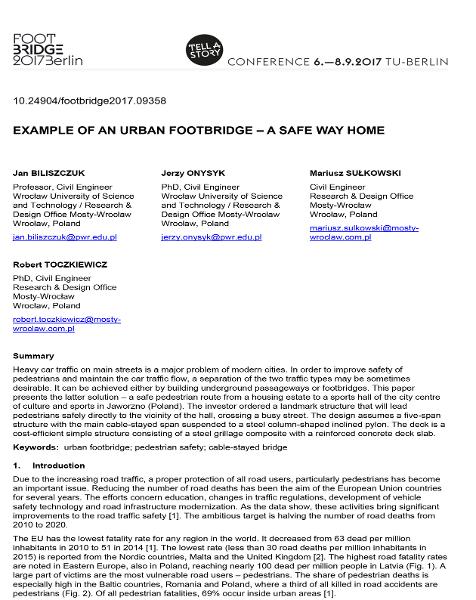 Author(s):

Jan Biliszczuk




Jerzy Onysyk




Mariusz Sułkowski




Robert Toczkiewicz



Medium:
conference paper
Language(s):
English
Conference:
Footbridge 2017 Berlin - Tell A Story, 6-8.9.2017, Technische Universität Berlin (TU Berlin)
Published in:
Footbridge 2017 Berlin - Tell A Story
Year:
2017
DOI:
10.24904/footbridge2017.09358
Abstract:

Heavy car traffic on main streets is a major problem of modern cities. In order to improve safety of pedestrians and maintain the car traffic flow, a separation of the two traffic types may be sometimes desirable. It can be achieved either by building underground passageways or footbridges. This paper presents the latter solution – a safe pedestrian route from a housing estate to a sports hall of the city centre of culture and sports in Jaworzno (Poland). The investor ordered a landmark structure that will lead pedestrians safely directly to the vicinity of the hall, crossing a busy street. The design assumes a five-span structure with the main cable-stayed span suspended to a steel column-shaped inclined pylon. The deck is a cost-efficient simple structure consisting of a steel grillage composite with a reinforced concrete deck slab.

Keywords:

cable-stayed bridge

urban footbridge

pedestrian safety

License:

This creative work is copyrighted. The copyright holder(s) do(es) not grant any usage rights other than viewing and downloading the work for personal use. Further copying or publication requires the permission of the copyright holder(s).
Structures and Projects
Structure Types
Geographic Locations