Publicité
Footbridge 2017 Berlin - Tell A Story
Conference Proceedings 6-8.9.2017 TU-Berlin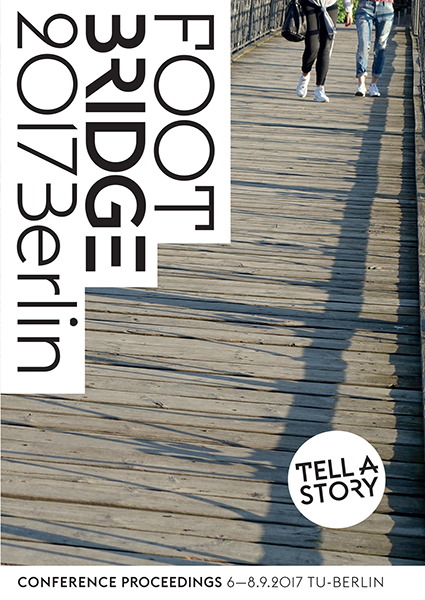 Directeur(s):

Mike Schlaich




Arndt Goldack



Médium:
actes de congrès
Langue(s):
ISBN-13:
978-3-9818968-0-0
Editeur:
Chair of Conceptual and Structural Design, Fachgebiet Entwerfen und Konstruieren – Massivbau, Technische Universität Berlin
Publié à:

Berlin

, Allemagne
Conférence:
Footbridge 2017 Berlin - Tell A Story, 6-8.9.2017, Technische Universität Berlin (TU Berlin)
Page(s):
432
Année:
2017
DOI:
10.24904/footbridge2017
Couverture:
broché
Acheter chez:
License:

Cette oeuvre est soumis au droits d'auteurs. L'auteur permet à tout le monde l'utilisation de la photo tant que l'auteur est nommé (par exemple dans la description de l'oeuvre avec prénom et nom du photographe). Tout usage et permit y inclus la distribution et l'utilisation commerciale. C'est la responsabilité de l'utilisateur de vérifier ci les droits de tiers sont affectés.
Articles
Auteur(s)
Titre
Page(s)

Adachi

,

Kotaro

Scissoring Origami Inspired Deployable Bridge for a Disaster

Allaert

,

Bart F.

Advanced Corrosion Protection of Structural Tension Members

Anderson

,

John R.B.

Designing for the Realities of a Day in the Life of a Good Looking but Hardy Footbridge

Andrasi

,

Katalin

Harlech Castle Footbridge - A Structure that Connects the Past with the Present

Angelmaier

,

Volkhard

Winning or Not - In Competition, the Journey is the Reward

Archbold

,

Paul

Design, Construction and Dynamic Analysis of a Laboratory-Scale FRP Composite Footbridge

Bartoli

,

Gianni

Wind Tunnel Tests and Full-Scale Measurements on a Cable-Stayed Footbridge

Bastos

,

Renato O.

Playing Structural Efficiency with Architects

Batliboi

,

Ratan J.

Changing Paradigm of Indian Footbridges: From Connectors to Destinations

Baumann

,

Katrin

The KuBAaI Footbridges In Bocholt / Germany – The Client's Wish to Use Low Maintenance Materials

Beade-Pereda

,

Héctor

St. Philips Pedestrian and Cyclist Bridge in Bristol
A Holistic Aesthetic, Structural and Functional Design

Bednarski

,

Cezary M.

Turning Heads in Gdansk

Beers

,

Frank

Vertical Accelerations due to Joggers of a Short Span Footbridge

Benedetti

,

Renato

Tripod Footbridge, Terni (Italy)
The Bridge as a Public Realm Driver of Urban Regeneration

Biliszczuk

,

Jan

Example of an Urban Footbridge – A Safe Way Home

Biliszczuk

,

Jan

Structures on Pedestrian and Bicycle Paths in Historic Parts of Cities

Blok

,

Rijk

Fully bio-based-composite footbridge: Strain monitoring during use phase

Borek

,

Dawid

Footbridges Load Tests in Poland: History, Regulations, Examples, Results

Bouleau

,

Etienne

A Rippled Footbridge Accessible for All

Brandstötter

,

Rudolf

Schlosssteg 2.0

Brasil

,

Reyolando

Effect of Pretension on the Dynamic Response of Footbridges

Brownjohn

,

James M. W.

Footbridge Dynamic Performance Assessment Using Inertial Measurement Units
18-27

Brownlie

,

Keith

Taste
A World of Difference
28-35

Burnton

,

Peter

Elizabeth Quay Pedestrian Bridge, Perth - The Jewel of the Quay

Burnton

,

Peter

Jubilee Bridge in the Heart of Singapore

Caetano

,

Elsa

Application of the Tuned Mass Damper Concept to the Modelling of Pedestrian-Structure Interaction

Capart

,

Hervé

Education of Future Builders Through Footbridge Design to Construction Projects

Capellán

,

Guillermo

Design of Raos Footbridge over the A-67 Motorway, Santander (Spain)

Chassagne

,

Pierre

La Passerelle du Marché – Maisons-Laffitte

Chew

,

Khai Seng

The Golden Bridge - A Footbridge Over the Sarawak River

Chikahiro

,

Yuki

Fundamental Study on Dynamic Property of Deployable Emergency Bridge Using Scissors Mechanism

Conzett

,

Jürg

Crossing the Viamala Gorge

Conzett

,

Jürg

A Park with Bridges
"Murgauenpark" Frauenfeld, Switzerland

Corbal

,

Jesús J.

Shared Platform Footbridges in Rural Environments
Footbridge Over Miño River in Os Peares (Ourense)

Cosentino

,

Nicola

Wind and Pedestrian Vibration Assessment on the New Swan River Pedestrian Bridge

CUI

,

Chuanjie

Vibration Analysis of a Long-Span Bridge with a Suspended Pavement System (SPS) Caused by the Vehicle Excitation

Czwikla

,

Benjamin

Perceptibility of Vibrations by Pedestrians

D'Haeseleer

,

Pieter

OO2804 A footbridge over the Watersportbaan in Ghent

Dey

,

Pampa

Key Findings from Serviceability Studies on Aluminum Footbridges

Díaz

,

Iván M.

Computing Serviceability Vibration Predictors for an In Service Footbridge

Ernst

,

Christian

Design at the Edge - Bridge Parapets

Fang

,

Yafei

One Pedestrian Suspension Bridge With Spatial Unilateral Hangers and Twin Curved Decks in Shanghai

Filkovic

,

Ivan

Footbridge Design as an Act of Inexperience

Firus

,

Andrei

Investigation of the Human-Structure Interaction on a Full Scale Experimental Footbridge

Font

,

Xavier

Management of Constraints to Create Meaningful Places
New Footbridge over the River Mogent in Montornès del Vallès

Furtak

,

Marcin

Natural and Landscape Inspirations in Designing of Modern Footbridges

Garcia-Troncoso

,

Natividad

Dynamic Response of Girder Footbridges with Supplemental Damping

Geyer

,

Silvia

Dubai Canal Footbridges: An Engineering Reply to a Stunning Architectural Challenge

Goberna

,

Gonzalo

Combined Cable Stayed-Stress Ribbon Bridges

Goldack

,

Arndt

Time-Frequency-Based Analysis of Pedestrian Induced Vibrations Using a Two-Step Clustering Approach

Goorts

,

Kevin

Towards Deployable, Autonomous, Vibration Control Systems for Lightweight Footbridges

Guisasola

,

Mario

Bicontentio Sinus Footbridge in Martutene (San Sebastián)

Hama

,

Yuta

Origami Inspired Deployable &Movable Bridge for Disaster Relief

Hawryszków

,

Paweł

Architectural Concept of a Cable-Stayed, Moveable Footbridge

Henriksen

,

Jesper B.

The Future Transportation Node Køge North Station

Herr

,

Christiane M.

Teaching Architects to Design Pedestrian Bridges

Hogger

,

Jacqui A.

Innovation in Providing a Solution to River Scour

Hsieh

,

Pei-Chen

Design of a Stress Ribbon Glulam Footbridge Across a Steep Forest Torrent

Humar

,

Gorazd

The book "Footbridges - Small is Beautiful"

Jensen

,

Poul Ove

Walking on a spider's web
Sofie's Bridge

Jirasek

,

Robert

Model-Based Active Vibration Control for Next Generation Bridges Using Reduced Finite Element Models

Jorquera-Lucerga

,

Juan José

A Conceptual Approach to Design Of Funicular Spatial Arches In Footbridges

Kadel

,

Mathias

Adventure Art Construction

Kalny

,

Milan

Cable-Stayed Footbridge with UHPC Deck in Celakovice

Karagiannis

,

Demis

Dafne Schippersbrug: Design and construction

Ke

,

Lu

Fuzzy Probabilistic Method of Footbridge Vibration Serviceability Assessment Under Pedestrian Loads

Keil

,

Andreas

Bridges at Night
How to Light a Bridge?

Keil

,

Andreas

Footbridge Flugfeld Böblingen Sindelfingen
Client and Designer in Cooperation

Keil

,

Andreas

Passerelle de la Paix, Lyon
A Story About the Effort to Appear Effortless

Klähne

,

Thomas

The Observation Point "Wolkenhain" - Bridge as well as Tower: A New Landmark in Berlin

Knight

,

Martin

BIM and the Art of Motorcycle Maintenance

Kok

,

Adriaan

Design of Movable Bridges - Selected Examples

Kok

,

Adriaan

Dutch Design Guide for Bicycle and Pedestrian Bridge Design

Lei

,

Jun

Structural System Identification of Pedestrian Bridges by Observability Method

Liu

,

Zehui

Control of Human-Induced Vibration of Footbridge Using Tuned Mass Dampers Designed by LQR Algorithm

Lozano-Galant

,

Jose A.

Modelling Construction of Footbridges with Cables

Luczkowski

,

Marcin

Why we Will all be Looking for a new Job Soon. True Story Based on Study Case of Orkdal Footbridge

Majowiecki

,

Massimo

Swan River Pedestrian Bridge in Perth - Structural Design Story from the Concept to the Construction

Mandal

,

Bibekananda

An Equivalent Homogeneous Model for FRP Sandwich Bridge Deck Panels with Sinusoidal Cores

Manfroni

,

Odine L.

"Tripod" Footbridge in Terni (Italy): On site Dynamic Characterization and Numerical Investigation of Lock-In

Manum

,

Bendik

The Rollout Stress Ribbon Bridge

Marginson

,

Andrew P.

The Refurbishment of Llangollen Chainbridge

Markelj

,

Viktor

Footbridge in the Old Centre of Ljubljana or How Thin Can Bridge Be

McNeil

,

John

Mangere Arch Footbridge, Auckland, New Zealand
Design of a 60m Tied Arch, Harbour Crossing

Meinhardt

,

Christian

Experimental Investigation of the Vibration Susceptibility of Footbridges for Subcritcal Vibration Modes

Mendoza

,

Marco A.

Evaluation of the Experimental and Analytical Dynamic Response of Pedestrian Bridges

Miebach

,

Frank

Solid Timber Bridge Constructions

Mimram

,

Marc

Infrastructure to Create Value
36-42

Mohr

,

Steffen

Six Languages and Cultures for the Design & Construction of a new Cable-Stayed Pedestrian Bridge at Algiers Bay

Müller

,

Thomas

More than a Footbridge - The new Baakenhafen Crossing
Complexity of Developing a Multi-Functional Structure in an Urban Context

Mundet

,

Guillem Collell

Sublimation (Footbridge Transition)

Nimmen

,

Katrien Van

Experimental Verification of the Dynamic Performance of a Footbridge Under High Pedestrian Densities

Nitschke

,

Ian

Restoration of the Iconic Shaw Bridge

Oliveira

,

Benedito T.

Restoration of the Bridges of Ouro Preto, Minas Gerais - MG, Brazil

Oliver

,

Alistair

Falmer High Level Walkway

Oskarsson

,

Kristjan U.

Markarfljot Footbridge - A Slender Long Span Suspension Bridge in Windy Surroundings

Pages

,

Yves

"Passerelle du Millénaire", Paris

Pańtak

,

Marek

Partial Squats – The Dynamic Load of the Footbridges

Paraskeva

,

Themelina S.

Easily Constructable Bamboo Footbridges for Rural Areas

Park

,

Cheolung

Design and Vibration Serviceability Evaluation of Pedestrian Space Arch Bridge

Patrón

,

Alberto

Design of 10 Footbridges in New Highway "Express Pass of Cuernavaca", Mexico

Pellegrini

,

Lara

Sustainable Pedestrian Bridge Using Advanced Materials (SUPERBAM)

Pereira

,

Samara P.

Numerical Analysis of Vibrations in Suspension Footbridge Under Pedestrian Traffic

Perse

,

Sophia

Pre-Design of a Modular Footbridge System with Pre-tensioned CFRP Reinforcement

Quappen

,

Sören

Crossing Hamburg's Historic Schleusengraben with a Swing – Landscape as the Governing Factor

Rabiega

,

Józef

History of the Reconstruction and Modernization of the Bolko Island Pedestrian Bridge in Opole

Ramos-Moreno

,

Caterina M.

Serviceability Response of a Benchmark Cable-Stayed Footbridge: Comparison of Available Methods' Prediction

Reimer

,

Andreas

The Saw-Tooth Connector: An Effective Joint-Element for Slender Concrete Decks

Rempel

,

Sergej

Extremely Light and Slender Precast Pedestrian-Bridge Made out of Carbon-Concrete

Ren

,

Lisha

Creative Design Resource: Revelation on Footbridge of Jörg Schlaich

Ren

,

Lisha

Parametric Design for Footbridge: A Case Study

Reyher

,

Boris

Difficult Roots and Happy Ends - How to Master the Design Process

Rinke

,

Mario

The modern engineer's Janus face: Delivering Reliability and Mystification

Rokach

,

Isaak

Beer Sheva Footbridge, Rokach-Ashkenazi Engineers

Romo

,

José

Zabalgana Footbridge Over Madrid-Irún Railroad in Vitoria

Rosales

,

Miguel

Moody Pedestrian Bridge
University of Texas in Austin, TX, US

Sahnaci

,

Ceyhun

A Full Probabilistic Model for Loads Induced by Walking

Sahnaci

,

Ceyhun

Performance of MTMD Systems Based on Realistic Load Contributions due to Walking

Saige

,

David

Vibration Control of Footbridges Under Pedestrian Loading Using Tuned Mass Damper Systems with Eddy Current Damper Technology

Sarkis

,

Ana I.

He Kōrero Takiwā, He Takiwā Kōrero / Stories Within Spaces, Spaces Defined by Stories: Footbridge Design Concept, Christchurch, New Zealand

Sarkisian

,

Mark

An International Arrival: The Collaborative Design of an Iconic Airport Footbridge

Sarkisian

,

Mark

Long-Span Pedestrian Bridges in the USA - A Futuristic Approach

Schanack

,

Frank

Diatomea Footbridge - Integrating Modern Infrastructure into a National Park in Chile

Schreinemachers

,

Michel

NEXT Connects: Bridges as Socio-Cultural Practices

Segal

,

Edward M.

A Polyester-Rope Suspended Footbridge in Ait Bayoud, Morocco
Structural Analysis and Key Details

Servais

,

Vincent

"Belle Liégeoise", the new Footbridge in Liège

Setareh

,

Mehdi

Study of the Group Effects on the Vibration Serviceability of Slender Footbridges

Siotor

,

Igor G.

State of the Art new Products and Methods for Cable Bridges Small and Big

Siviero

,

Enzo

The Bridge of the Dialogue in Chiavenna (Italy)

Siviero

,

Enzo

The School of Bridge Design in Ecampus, Como, Italy

Smith

,

Craig

Ailsa Wharf Footbridge: Creativity Through Collaboration

Sobrino

,

Juan

Fort York Pedestrian Bridges in Toronto. The Two First Duplex Stainless Steel Bridges in North America

Soria

,

José M.

Long-Term Vibration Serviceability Assessment of a Steelplated Stress-Ribbon Footbridge

Strasky

,

Jiri

Footbridges with Prestressed Concrete Decks
44-53

Strobl

,

Wolfgang

A Walkable Sculptural Structure
Stress Ribbon Bridge at Tirschenreuth, Germany

Strydom

,

John

Weiterleiten Bridge
Forward Through Unity

Tam

,

Matthew

Intelligent Fabrication - Digital Bridges

Tandon

,

Mahes

New Generation of Footbridges for Delhi, India

Tanner

,

Peter

Paper and Pencil in the Age of BIM. Design and Construction of the Butarque Footbridge

Teng

,

Jun

Implementation of a Dynamic Monitoring System for an Butterfly Arch Footbridge

Thie

,

Edwin

The Future of the Footbridge Engineer in the Purpose Economy

Torsing

,

Rob

Bicycle and Pedestrian Bridge Sittard-Geleen

Tosini

,

Luciano

Towards a Fully Digital Modelling of Steel Joints at ULS

Totaro

,

Andrea

Testing Major Footbridges in Italy

Trojaborg

,

Steen Savery

Rethinking Cities

Valdovinos

,

Schaun

Economic Approach to Damping Trail-Style Footbridges

Vicente

,

Miguel A.

Dynamic Considerations in Case of Footbridges with Elevators

Vivas

,

Julio

How to Make the Largest Footbridge Over a Motorway in Spain… (In Timber)

Wagner

,

Marlene

Bridging Mzamba – Perspectives on Trans-Disciplinary and Cross-Cultural Implementation Process

Walgenwitz

,

Lucile

The John V. Tunney Bridge: A New Courtyard Connection for the Hammer Museum

Wang

,

Dalei

Assessment of Vibration Serviceability of a Large-Span Cable-Supported Footbridges in the Scenic Area

Wang

,

Minquan

Difficulties Encountered During the Construction of Qingchun Irregular-Shaped Footbridge

Watanabe

,

Ryuichi

Dejima Footbridge, Making a Connection in the 400 Years' History
A Study on Cultural Meaning of Building Contemporary Bridge

Weber

,

Felix

New Real-Time Controlled Semi-Active Tuned Mass Damper for Human, Vortex and Wind Excitations

Wing

,

Mark

Our Story Continues
Genesis of a Footbridge From a Community Perspective

Wojnarski

,

Lukasz

Kai Tak Landscaped Deck - Concept Design

Zäll

,

Emma

The Effect of Runners on Footbridges - A Case Study

Zatar

,

Wael

Demonstration Footbridges Made of Ultra-High-Performance Concrete and FRP Composites

Zhang

,

Qilin

Design, Construction and Health Monitoring for a Large Span Pedestrian Bridge

Zhang

,

Tianhao

A Novel Concept for a Cable-Stayed Movable Footbridge

Zhong

,

Jingru

Vertical Vibration of Complex and Slender Footbridges due to Stochastic Crowd-Induced Excitation

Živanović

,

Stana

Vibration Performance of Two FRP Footbridge Structures in the United Kingdom

Zoltowski

,

Krzysztof

Footbridges. Dynamic Design – Selected Problems
Types d'ouvrages