Wind Tunnel Tests and Full-Scale Measurements on a Cable-Stayed Footbridge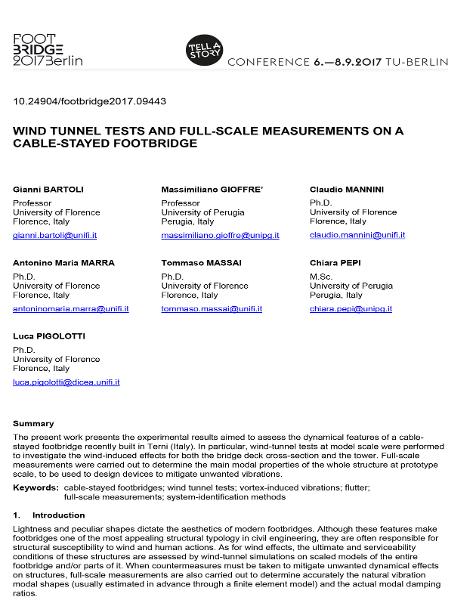 Author(s):

Gianni Bartoli




Massimiliano Gioffre




Claudio Mannini




Antonino Maria Marra




Tommaso Massai




Chiara Pepi




Luca Pigolotti



Medium:
conference paper
Language(s):
Conference:
Footbridge 2017 Berlin - Tell A Story, 6-8.9.2017, Technische Universität Berlin (TU Berlin)
Published in:
Footbridge 2017 Berlin - Tell A Story
Year:
2017
DOI:
10.24904/footbridge2017.09443
Abstract:

The present work presents the experimental results aimed to assess the dynamical characteristics of a cable-stayed footbridge recently built in Terni (Italy). The assessment process involved both wind tunnel and full-scale experimental tests, and relied on the fruitful interaction between designers and academic experimenters. The wind-tunnel study investigated the wind-induced dynamical phenomena possibly affecting the structure. Then, the experimental work focused on assessing the actual dynamic features at prototype scale in order to confirm and/or to update the assumptions used for the design of devices to mitigate the undesired vibrations.

Keywords:

wind tunnel tests

vortex-induced vibrations

flutter

full-scale measurements

system-identification methods

cable-stayed footbridges

License:

This creative work is copyrighted. The copyright holder(s) do(es) not grant any usage rights other than viewing and downloading the work for personal use. Further copying or publication requires the permission of the copyright holder(s).
Structures and Projects