Samuel De Champlain Bridge
General Information
Project Type
Location
Technical Information
Dimensions
main span
240 m
total length
3 400 m
deck 1
deck depth
3.630 m
total width
17.045 m
roadway / carriageway width
16.045 m
deck 2
deck depth
3.620 m
number of tracks
2
total width
10.870 m
deck 3
deck depth
3.630 m
total width
17.045 m
roadway / carriageway width
16.045 m
pylon
height from foundation level
170 m
Quantities
structural steel
72 700 t
concrete volume
107 000 m³
prestressing steel
1 110 t
stay cables
steel for cable-stays
1 120 t
Cost
| | | |
| --- | --- | --- |
| | cost of construction | ca. Canadian dollar 2 150 000 000 |
Materials
pylon
reinforced concrete
precast reinforced concrete

piers
reinforced concrete

pier heads
steel

main girders
steel

Case Studies and Applied Products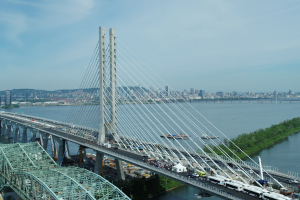 Guided Cross-Ties are an innovative expansion joint system that has only been used on railway bridges a few times worldwide. The new Champlain Bridge over the St. Lawrence River boasts one of the largest eve ... [more]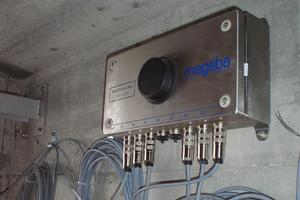 Robo®Control detects the absence of machine specifications at the component and conveys these to a central computer. There the data are processed and they are made available to the clients through internet.
[more]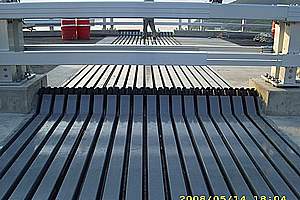 Modular Expansion Joints can be constructed for any movements, from about 100 mm up to 2,000 mm and more. They allow movements in all 3 directions and rotations around all 3 axes.
[more]
Participants
Design
Structural engineering
Quality control
Co-contractor
Steel construction
Expansion joints
Monitoring equipment
Relevant Web Sites
Relevant Publications
More publications...
About this
data sheet
Structure-ID
20067927
Published on:
19/10/2015
Last updated on:
29/06/2022