Flehe Bridge
General Information
| | |
| --- | --- |
| Name in local language: | Fleher Brücke |
| Other name(s): | Rheinbrücke Flehe; Autobahnbrücke Düsseldorf-Flehe |
| Beginning of works: | 1976 |
| Completion: | 3 November 1979 |
| Status: | in use |
Project Type
Location
Technical Information
Dimensions
main span
368.00 m
total length
1 148 m
span lengths
12 × 60.00 m - 59.25 m - 368.00 m
deck
deck width
41.70 m
pylon
pylon height
145 m
Materials
| | |
| --- | --- |
| cables | steel |
| pylon | reinforced concrete |
| piers | reinforced concrete |
| deck of main bridge | steel |
| deck of approach viaduct | prestressed concrete |
| abutments | reinforced concrete |
Case Studies and Applied Products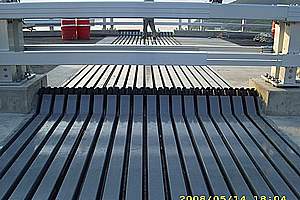 Modular Expansion Joints can be constructed for any movements, from about 100 mm up to 2,000 mm and more. They allow movements in all 3 directions and rotations around all 3 axes.
[more]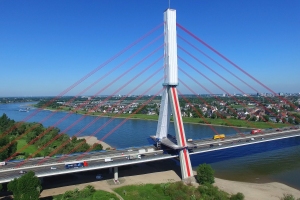 After more than 40 years in service, the pylon of the Flehe Bridge over the Rhine between Düsseldorf and Neuss required extensive concrete refurbishment. Because of the heavy traffic, the work had to be carr ... [more]
Excerpt from Wikipedia
The Flehe Bridge, is a single tower cable stayed bridge located in Düsseldorf, over the Rhine. It connects the A 46 motorway from the left bank of the Rhine (Neuss, Aachen, Heinsberg district, the Netherlands) with the Bergisches Land on the right bank (Wuppertal, Solingen, Hagen) and the south of Düsseldorf. It forms at the same time the southern part of the ring of motorways around Düsseldorf. It includes a pedestrian and cyclist strip.
This bridge opened in 1979 and eliminated a considerable amount of transit traffic south of Düsseldorf and the South Bridge (B 1), both then the only southern access from the left bank of the Rhine to Düsseldorf. Also, it connected the A 46 with the A 57. The Flehe Bridge has in each direction three vehicle lanes and a hard shoulder. The bridge does not cross the Rhine in a right angle, in order to preserve the area of water procurement of the old water company Flehe. A remarkable feature of the Flehe bridge is the reinforced concrete suspension tower, which looks like a Ypsilon turned on ist head. In the handles of the pylons an elevator and stairs are accommodated above the roadway. The handles are in bridge longitudinal direction only 6.4 metres (21 ft) broad. They were manufactured with a climbing formwork. The 13-feldrige foreland bridge is a prestressed concrete construction work with a construction height of 3.80 metres (12.5 ft) and a total span of 13 by 60 metres (43 ft × 197 ft) = 780 metres (2,560 ft). Thereby exists covers on a length of nine fields from two single-cell hollow boxes with ever 7.0 metres (23.0 ft) broad base plate. The remaining four fields within the range of the bridge removing possess against it a five-cellular box cross-section with base plate width of 29.5 metres (97 ft). A structural steelwork has the 368 metres (1,207 ft) river opening stretching far as if cover.
Text imported from Wikipedia article "Flehe Bridge" and modified on 22 July 2019 under the CC-BY-SA 3.0 license.
Participants
Initial construction (1976-1979)
Owner
Client
Original design
Architecture
Structural engineering
Checking engineering
Contractor
Expansion joint replacement (2012-2013)
Client
Expansion joints
Concrete repairs (2017)
Client
Scaffolding
Concrete repair
Cable inspection (2015)
Client
Inspection services
Relevant Web Sites
Relevant Publications
More publications...
About this
data sheet
Structure-ID
20000319
Published on:
07/08/1999
Last updated on:
10/05/2022