Flehe Bridge
General Information
| | |
| --- | --- |
| Name in local language: | Fleher Brücke |
| Other name(s): | Rheinbrücke Flehe; Autobahnbrücke Düsseldorf-Flehe |
| Beginning of works: | 1976 |
| Completion: | 3 November 1979 |
| Status: | in use |
Project Type
Location
Technical Information
Dimensions
main span
368.00 m
total length
1 148 m
span lengths
12 x 60.00 m - 59.25 m - 368.00 m
number of spans
14
deck
deck width
41.70 m
pylon
pylon height
145 m
Materials
| | |
| --- | --- |
| cables | steel |
| pylon | reinforced concrete |
| piers | reinforced concrete |
| deck of main bridge | steel |
| deck of approach viaduct | prestressed concrete |
| abutments | reinforced concrete |
Case Studies and Applied Products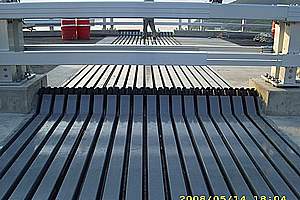 Modular Expansion Joints can be constructed for any movements, from about 100 mm up to 2,000 mm and more. They allow movements in all 3 directions and rotations around all 3 axes.
[more]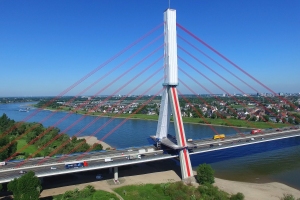 After more than 40 years in service, the pylon of the Flehe Bridge over the Rhine between Düsseldorf and Neuss required extensive concrete refurbishment. Because of the heavy traffic, the work had to be carr ... [more]
Participants
Initial construction (1976-1979)
Owner
Client
Original design
Architecture
Structural engineering
Checking engineering
Contractor
Expansion joint replacement (2012-2013)
Client
Expansion joints
Concrete repairs (2017)
Client
Scaffolding
Concrete repair
Cable inspection (2015)
Client
Inspection services
Relevant Web Sites
Relevant Publications
More publications...
About this
data sheet
Structure-ID
20000319
Published on:
07/08/1999
Last updated on:
10/05/2022