Ting Kau Bridge
General Information
| | |
| --- | --- |
| Name in local language: | 汀九桥 (汀九橋) = Tīngjiǔ Qiáo |
| Beginning of works: | 1995 |
| Completion: | 5 May 1998 |
| Status: | in use |
Project Type
Location
Technical Information
Dimensions
total length
1 675 m
bridge surface
46 000 m²
deck
width
2 x 18.77 m
number of lanes
2 x 3
piers
height
max. 65 m
deck depth at abutments
21
main bridge
total length
1 177 m
span lengths
127 m - 448 m - 475 m - 127 m
number of spans
4
cables
strands per cable
20 - 60 (15 mm)
pylon Central
height
194 m
pylon head Central
height
31 m
weight
190 m
pylon head Ting Kau
height
21 m
weight
140 t
pylon head Tsing Yi
height
162 m
weight
140 t
pylon Ting Kau
height
167 m
pylon Tsing Yi
height
162 m
stay cables
number of cables
384
Quantities
volume of extracted material
675 000 m³
volume of earthworks
50 000 m³
deck
structural steel
9 000 t
reinforcing steel content
80 kg/m²
main bridge
pylons
structural steel
1 300 t
reinforcing steel content
200 kg/m²
stay cables
steel for cable-stays
2 800 t
Design Loads
Materials
| | |
| --- | --- |
| pylons | reinforced concrete |
| deck slab | reinforced concrete |
| cross beams | steel |
| girders | steel |
Case Studies and Applied Products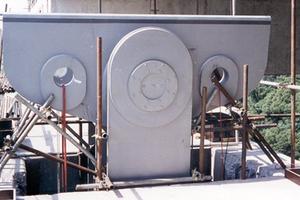 mageba has more than 40 years manufacturing know-how in the manufacturing of special bearings.
[more]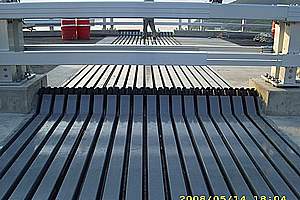 Modular Expansion Joints can be constructed for any movements, from about 100 mm up to 2,000 mm and more. They allow movements in all 3 directions and rotations around all 3 axes.
[more]
Participants
Initial construction (1992-1997)
Owner
Client
Design
Wind tunnel testing
Checking engineering
Co-contractor
Precastor
Subcontractor
Earthworks
Stay cables
Prestressing
Material supplier
Concrete supplier
Steel supplier
Reinforcing steel
Bearings
Expansion joints
Roadway cover
Formwork
Construction supervision
Cable refurbishment (2006)
Relevant Web Sites
Relevant Publications
More publications...
About this
data sheet
Structure-ID
20000078
Published on:
28/10/1998
Last updated on:
28/11/2018