Severin Bridge
General Information
Project Type
Location
Technical Information
Dimensions
main span
302 m
span lengths
49.21 m - 89.03 m - 47.81m - 302.00 m - 150.68 m - 52.13 m
number of spans
6
deck
deck depth
4.00 m
deck width
29.5 m
pylon
pylon height
77.20 m
Materials
| | |
| --- | --- |
| cables | steel |
| pylon | steel |
| deck | steel |
Case Studies and Applied Products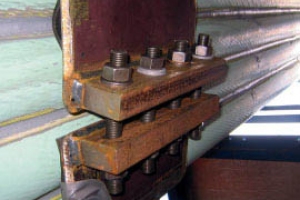 The repair of the Severinsbrücke required a complete renewal of the corrosion protection of the pylon (outside) and the cables. This required section-by-section construction work.
[more]
Participants
Initial construction (1956-1959)
Owner
Client
approach viaducts
Concrete construction
Railing
Roadway cover
main bridge
Design
Traffic engineering
Structural engineering
Checking engineering
Steel construction
Concrete construction
Stonework
Special foundations
Cable steel supplier
Railing
Roadway cover
Rehabilitation (2012-2013)
Consulting engineers
Scaffolding
Relevant Web Sites
Relevant Publications
More publications...
About this
data sheet
Structure-ID
20000066
Published on:
28/10/1998
Last updated on:
02/10/2019