Felsenau Viaduct
General Information
Project Type
Location
Technical Information
Dimensions
total length
1 116 m
longest span
144 m
span lengths
38 m - 5 x 48 m - 94 m - 12 m - 144 m - 12 m - 144 m - 12 m - 94 m - 6 x 48 m - 38 m
deck
deck depth
3.00 - 8.00 m
deck width
26.20 m
piers
width
7.46 m
Materials
| | |
| --- | --- |
| deck | prestressed concrete |
| piers | reinforced concrete |
| abutments | reinforced concrete |
Case Studies and Applied Products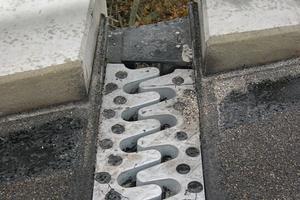 The RSFD Cantilever Finger Joint consists of massive steel edge profiles with finger plates that are connected to the lower construction on either side of the bridge gap.
[more]
Participants
Initial construction
Design
Widening (2003-2007)
Expansion joints
Relevant Web Sites
There currently are no relevant websites listed.
Relevant Publications
More publications...
About this
data sheet
Structure-ID
20000023
Published on:
28/10/1998
Last updated on:
28/05/2021