Tsing Ma Bridge
General Information
| | |
| --- | --- |
| Name in local language: | 青馬大橋 (Qīngmǎ Dàqiáo) |
| Beginning of works: | May 1992 |
| Completion: | 22 May 1997 |
| Status: | in use |
Project Type
Location
Technical Information
Dimensions
main span
1 377 m
total length
2 160 m
span lengths
63 m - 76.5 m - 355.5 m - 1 377 m - 355.5 m - 4 × 72 m
clearance
62 m
cables
number of cables
2
lower deck
number of tracks
2
number of lanes
2
pylons
height
206 m
upper deck
number of lanes
6
Quantities
| | | |
| --- | --- | --- |
| deck | structural steel | 49 000 t |
Materials
| | |
| --- | --- |
| cables | steel |
| towers | reinforced concrete |
Case Studies and Applied Products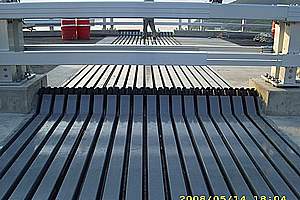 Modular Expansion Joints can be constructed for any movements, from about 100 mm up to 2,000 mm and more. They allow movements in all 3 directions and rotations around all 3 axes.
[more]
Notes
The Tsing Ma Bridge is one of the three long span bridges linking the New Territories in Hong Kong with the Island of Chep Lap Kok, where the territory's new airport is located. The other two bridges are the Kap Shui Mun Bridge and the Ting Kau Bridge.
65 000 tonnes of concrete were used in the construction of each tower (206 metres high). The saddle weight is 500 tonnes each.
The number of wires in the main span is 33 400 with a diameter of 5.38 mm per wire while the side spans have 35 224 each. The total wire length is 160 000 km with a weight of 26 700 tonnes. Each cable carries a load of 53 000 tonnes.
49 000 tonnes of structural steel were used in the construction of the deck, the equivalent weight of 22.7 tonnes per meter.
200 000 tonnes of concrete were used on the Tsing Yi side anchorages, 250 000 tonnes on the Ma Wan end.
The bridge was designed using 20 kN/m and per lane and a wind gust speed of 85 m/s.
The deflections of the bridge are 4.7 meters in the vertical; 1.3 meters due to temperature changes; 4.4 meters laterally due to wind. Longitudinal movement is at ±835 millimetres at the Tsing Yi abutment.
Traffic speeds on the bridge are 100 km/h for automobiles and 135 km/h for trains.
Participants
Owner
Design
Architecture
Structural engineering
Consulting engineers
Checking engineering
Contractor
Co-contractor
Resident engineering
Subcontractor
Cable steel supplier
Expansion joints
Formwork
Monitoring equipment
Construction management
Relevant Web Sites
Relevant Publications
More publications...
About this
data sheet
Structure-ID
20000082
Published on:
28/10/1998
Last updated on:
21/06/2022