Osman Gazi Bridge
General Information
| | |
| --- | --- |
| Name in local language: | Osman Gazi Köprüsü; İzmit Körfez Köprüsü |
| Other name(s): | Izmit Bay Bridge |
| Beginning of works: | 30 March 2013 |
| Completion: | 1 July 2016 |
| Status: | in use |
Project Type
Location
Technical Information
Dimensions
main bridge
main span
1 550 m
total length
2 682 m
span lengths
120 m - 566 m - 1 550 m - 566 m - 135 m
deck
width
30.1 m
girder depth
4.75 m
pylons
height
236.4 m
on-axis distance between cables at top of towers
30.100 m
Materials
| | |
| --- | --- |
| deck | steel |
| piers | reinforced concrete |
| foundations | reinforced concrete |
| pylons | steel |
| anchorages | reinforced concrete |
Case Studies and Applied Products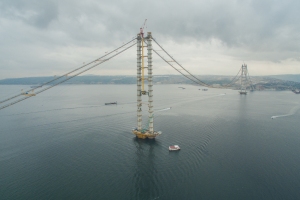 The suspension bridge with the fourth longest main span in the world is currently being erected over the Izmit Bay. A particular challenge is the location. The drawn-out bay is situated in one of the world's ... [more]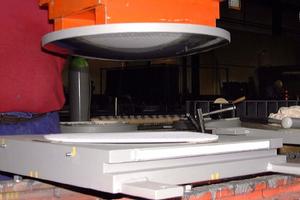 mageba spherical Bearings are especially suited for bridges with big torsions and bridges located in very cold areas (temperatures lower than -30°C).
[more]
Chronology
| | |
| --- | --- |
| 30 March 2013 | Prime minister Recep Tayyip Erdoğan lays the foundation stone for the bridge. |
Participants
Architecture
Wind tunnel testing
Structural engineering
Co-contractor
Bearings
Seismic bearings
Expansion joints
Shock absorbers
Relevant Web Sites
Relevant Publications
More publications...
About this
data sheet
Structure-ID
20008107
Published on:
11/02/2003
Last updated on:
01/03/2022