Øresund Bridge
General Information
Project Type
Location
Technical Information
Dimensions
main span
490 m
total length
7 845 m
suspended length
1092 m
clearance
57 m
deck
width
23.5 m
pylon
pylon height
203.5 m
Quantities
structural steel
82 000 t
concrete volume
320 000 m³
reinforcing steel
60 000 t
steel for cable-stays
2 300 t
Materials
| | |
| --- | --- |
| superstructure | steel |
| substructure | reinforced concrete |
| pylons | reinforced concrete |
Case Studies and Applied Products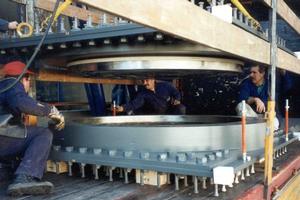 mageba Pot Bearings are durable bearings that can be used in many situations, whether in big or small bridges, or a variety of engineering structures.
[more]
Chronology
| | |
| --- | --- |
| 14 August 1999 | The last span is lifted into place, Prince Frederik of Denmark and Princess Victoria of Sweden exchange kisses on the bridge. |
| 1 July 2000 | Opened for traffic across the link. |
Participants
Owner
Design
Aerodynamic studies
Consulting engineers
Co-contractor
Subcontractor
Stay cables
Prestressing
Material supplier
Stay cable steel supplier
Bearings
Formwork
Relevant Web Sites
Relevant Publications
More publications...
About this
data sheet
Structure-ID
20000333
Published on:
15/08/1999
Last updated on:
29/01/2018