Ulsan Harbor Bridge
General Information
| | |
| --- | --- |
| Other name(s): | Ulsan Bridge |
| Beginning of works: | 2010 |
| Completion: | 2015 |
| Duration of works: | 60 months |
| Status: | in use |
Project Type
Location
Location:
Ulsan,

South Korea



Crosses:
Location description:

This bridge, which crosses Tae-Hwa River in Ulsan Bay, connects the eastern and western industrial regions of Ulsan metropolitan city.

Coordinates:
35° 30' 39.56" N 129° 22' 21.19" E
Coordinates:
35° 30' 45.88" N 129° 24' 14.05" E
Technical Information
Dimensions
main span
1 150 m
total length
2 900 m
deck
width
25.6 m
number of lanes
4
pylons
height
203 m
eastern approach viaduct
total length
570 m
western approach viaduct
total length
1 180 m
Materials
| | |
| --- | --- |
| cables | steel |
| piers | reinforced concrete |
| pylons | reinforced concrete |
| deck of main bridge | steel |
Case Studies and Applied Products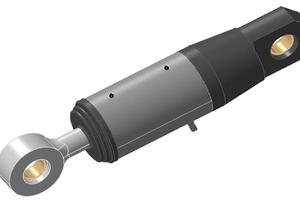 Under normal circumstances, Hydraulic Shock Absorbers allow free movements of the bridge structure. Under shock impact, e.g. due to earthquakes, high braking loads or strong winds, they function temporarily as elastic damping connections.
[more]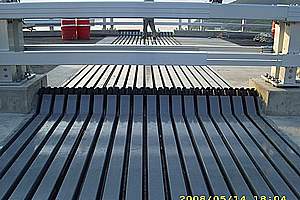 Modular Expansion Joints can be constructed for any movements, from about 100 mm up to 2,000 mm and more. They allow movements in all 3 directions and rotations around all 3 axes.
[more]
Chronology
| | |
| --- | --- |
| May 2010 | Beginning of construction. |
Notes
"Ulsan Harbor Bridge is the long-span suspension bridge that crosses Tae-Hwa River of Ulsan Metropolitan City in Korea. The bridge was initiated as the part of the main route that connects the eastern and western industrial regions of Ulsan City in order to reduce the cost of transportation, to ensure transportability via Ulsan Bay and boost tourism.
Ulsan Harbor Bridge is one of the biggest bridge projects in Korea. The length of the central span of the bridge is 1,150m. As a single-span suspension bridge, the bridge will be the fourth-longest bridge in the world following Runyang Bridge (1,490m), Jangyin Bridge (1,385m) and Yangluo Bridge (1,280m) when completed.
Many state-of-art technologies including high-performance materials and innovative erection methods are adopted for design and construction of the bridge. The high-strength PPWS cable (TS = 1,960 MPa class), which have been developed recently, are applied for the main cable of the bridge. It is the first application worldwide. Effective equipment is used for erection of the PPWS cables. In order to minimize damage of the environment, the tunnel type anchorage are used as cable anchorages. The stiffened girder is optimized using wind tunnel tests and CFD analysis. The effective ACS is utilized for construction of high-rise pylons to reduce the period of construction.
Participants
Design
Wind analysis
Contractor
Steel construction
Expansion joints
Shock absorbers
Relevant Web Sites
Relevant Publications
(2012):

Cable Erection Plan of Ulsan Bridge

. Presented at: 18th IABSE Congress: Innovative Infrastructures – Towards Human Urbanism, Seoul, Korea, 19-21 September 2012, pp. 318-326.
About this
data sheet
Structure-ID
20064703
Published on:
09/03/2013
Last updated on:
10/02/2017