Müngsten Viaduct
General Information
| | |
| --- | --- |
| Name in local language: | Müngstener Brücke |
| Beginning of works: | 26 February 1894 |
| Completion: | 21 March 1897 |
| Status: | in use |
Project Type
Location
Technical Information
Dimensions
total length
465 m
arch
rise
69 m
arch span
170 m
deck
height above valley floor or water
107 m
Quantities
| | | |
| --- | --- | --- |
| arch | structural steel | 2 111 t |
| deck | structural steel | 991 t |
| piers | structural steel | 1 100 t |
Cost
| | | |
| --- | --- | --- |
| | cost of construction | Mark 2 646 386.25 |
Materials
| | |
| --- | --- |
| deck | steel |
| piers | steel |
| arch | steel |
Case Studies and Applied Products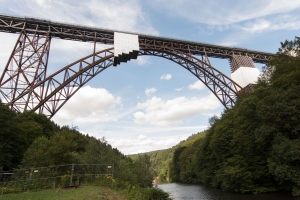 The Müngsten Bridge is 465 m long and, at 107 m high, the highest steel lattice bridge in Germany. Due to its dimensions and pioneering assembly principles, it is still one of the most important German railroad bridges.
[more]
Notes
Highest railroad bridge above ground level in Germany.
Participants
Initial construction (1894-1897)
Design
Engineering
Construction
Construction supervision
Rehabilitation (2013-2018)
Owner
Structural engineering
Steel construction
Anti-corrosion protection
Scaffolding
Relevant Web Sites
Relevant Publications
More publications...
About this
data sheet
Structure-ID
20000045
Published on:
28/10/1998
Last updated on:
10/05/2022