Köhlbrand Bridge
General Information
| | |
| --- | --- |
| Name in local language: | Köhlbrandbrücke |
| Beginning of works: | 1970 |
| Completion: | 29 September 1974 |
| Status: | in use |
Project Type
Location
Technical Information
Dimensions
main span
325 m
total length
3 618 m
clearance
55.00 m
span lengths of main bridge
97.50 m - 325.00 m - 97.50 m
deck
deck depth
3.45 m
deck width
17.60 m
pylons
pylon height
98.00 m
main bridge
length
520 m
Materials
| | |
| --- | --- |
| cables | steel |
| deck | steel |
| pylons | steel |
Case Studies and Applied Products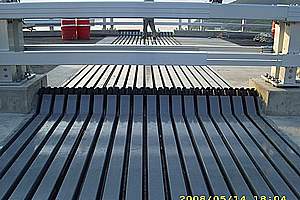 Modular Expansion Joints can be constructed for any movements, from about 100 mm up to 2,000 mm and more. They allow movements in all 3 directions and rotations around all 3 axes.
[more]
Participants
Initial construction (1970-1974)
Owner
Design
Architecture
Contractor
Steel construction
Expansion joint replacement (2014-2016)
Owner
Expansion joints
Cable maintenance (2010)
Anti-corrosion protection
Cable inspection (2008)
Inspection services
Monitoring
Consulting engineers
Monitoring equipment
Relevant Web Sites
Relevant Publications
More publications...
About this
data sheet
Structure-ID
20000449
Published on:
05/11/1999
Last updated on:
09/01/2018