Great Belt West Bridge
General Information
Project Type
Location
Location:
Korsør,

Zealand

,

Denmark



Crosses:
Part of:
Coordinates:
55° 19' 31.38" N 10° 56' 45.94" E
Coordinates:
55° 17' 58.64" N 10° 51' 8.87" E
Technical Information
Dimensions
main span
110.00 m
width
25 m
total length
6 611 m
span lengths
51 × 110 m + 12 × 81 m
number of tracks
2
number of lanes
2 × 2
Quantities
| | | |
| --- | --- | --- |
| | prestressing steel | > 12 000 t |
Materials
| | |
| --- | --- |
| deck | prestressed concrete |
Case Studies and Applied Products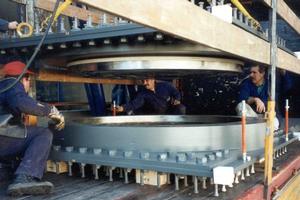 mageba Pot Bearings are durable bearings that can be used in many situations, whether in big or small bridges, or a variety of engineering structures.
[more]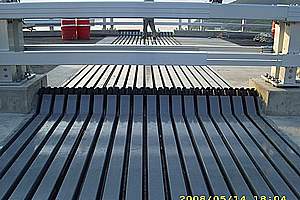 Modular Expansion Joints can be constructed for any movements, from about 100 mm up to 2,000 mm and more. They allow movements in all 3 directions and rotations around all 3 axes.
[more]
Chronology
| | |
| --- | --- |
| 3 March 2005 | A 3 600 ton ship collides with the Storebælt West bridge, killing one crew member on board. A 2.5 by 5 meter section of the superstructure is damaged, but the bridge reopened for traffic after an inspection deems the bridge safe to carry vehicles. |
Participants
Wind tunnel testing
Contractor
Prestressing
Bearings
Pot bearings
Relevant Web Sites
Relevant Publications
More publications...
About this
data sheet
Structure-ID
20002357
Published on:
15/11/2001
Last updated on:
05/02/2016