Crusell Bridge
General Information
| | |
| --- | --- |
| Other name(s): | Western Harbour Street Bridge |
| Beginning of works: | 2008 |
| Completion: | 2011 |
| Status: | in use |
Project Type
Location
Technical Information
Dimensions
width
25 m
total length
143 m
span lengths
92 - 51.5 m
pylon
height
49 m
Materials
Case Studies and Applied Products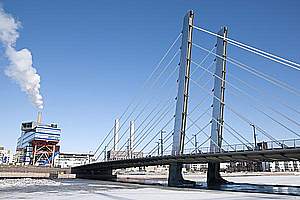 The recently completed Crusell cable-stayed bridge in Helsinki will go down in history as the first bridge to be built making extensive use of Building Information Modelling or BIM.
[more]
Relevant Web Sites
There currently are no relevant websites listed.
Relevant Publications
Balance and Costs of Cable-Stayed Bridges with Inclined and Curved Tower Shapes

. In:

Structural Engineering International

, v. 31, n. 4

(October 2021)

, pp. 1-6.
(2021):

(2019):

Ontology-based sharing of structural health monitoring data

. Presented at: IABSE Congress: The Evolving Metropolis, New York, NY, USA, 4-6 September 2019, pp. 2213-2220.

(2016):

Structural Health Monitoring of Crusell Bridge

. Presented at: IABSE Congress: Challenges in Design and Construction of an Innovative and Sustainable Built Environment, Stockholm, Sweden, 21-23 September 2016, pp. 1797-1802.
About this
data sheet
Structure-ID
20004821
Published on:
04/09/2002
Last updated on:
15/01/2022