Älvsborgsbron
General Information
Project Type
Location
Technical Information
Dimensions
main span
417.60 m
total length
933 m
clearance
45 m
deck
deck width
28.1 m
pylons
height
ca. 90 m
Materials
| | |
| --- | --- |
| pylons | reinforced concrete |
| deck truss | steel |
Case Studies and Applied Products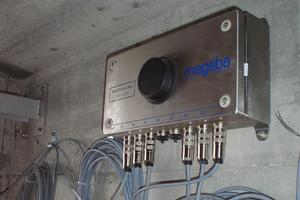 Robo®Control detects the absence of machine specifications at the component and conveys these to a central computer. There the data are processed and they are made available to the clients through internet.
[more]
Excerpt from Wikipedia
The Älvsborg Bridge (Swedish:Älvsborgsbron) is a suspension bridge over Göta älv in Gothenburg, Sweden, which connects the north and the south part of the city. It was built in 1966 and designed by Sven Olof Asplund. The total length of the bridge is 933 metres and distance between the towers ("main span") is 417 metres, while the clearance below the bridge is 45 metres. The pylons are 107 metres tall making the bridge one of Gothenburg's most prominent landmarks.
The bridge was painted green for the 1995 World Championships in Athletics which Gothenburg hosted. Work started in 1993 and used about 36,000 litres of paint.
The bridge was the finish line for the 2005–06 Volvo Ocean Race.
Text imported from Wikipedia article "Älvsborg Bridge" and modified on 23 July 2019 under the CC-BY-SA 3.0 license.
Participants
Initial construction (1963-1966)
Design
Monitoring (2011)
Remote monitoring system
Relevant Web Sites
Relevant Publications
About this
data sheet
Structure-ID
20008114
Published on:
11/02/2003
Last updated on:
05/02/2016