Uddevalla Bridge
General Information
Project Type
Location
Technical Information
Dimensions
main span
414 m
total length
1 712 m
span lengths
66 m - 5 × 88 m - 179 m - 414 m - 179 m - 3 × 88 m - 2 × 60 m - 50 m
Quantities
structural steel
9 000 t
concrete volume
35 000 m³
Materials
| | |
| --- | --- |
| cables | steel |
| deck | composite steel-reinforced concrete |
| pylons | reinforced concrete |
Case Studies and Applied Products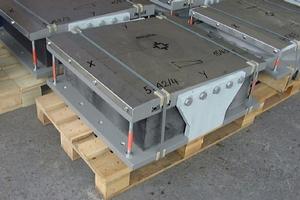 RESTON®ILM incremental launch bearings are used in the construction of bridges by the incremental launch method, and remain in service after completion of construction, taking on the role of the bridge's permanent bearings. This dual fun ... [more]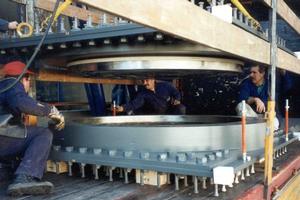 mageba Pot Bearings are durable bearings that can be used in many situations, whether in big or small bridges, or a variety of engineering structures.
[more]
Excerpt from Wikipedia
The Uddevalla Bridge (Swedish:Uddevallabron) is a cable-stayed bridge crossing Sunninge sound near Uddevalla in the province of Bohuslän on the west coast of Sweden. The bridge was constructed as part of the rerouting of the European route E06 outside Uddevalla, which reduced traffic congestion in the city and shortened traveling distance by 12.8 km (8.0 mi).
Dimensions
The total length is 1,712 m (5,617 ft), with a main span of 414 m (1,358 ft), there are a number of small approach spans at each end, and the two cable stayed side spans are 179 m (587 ft) each. It is 23.3 m (76 ft) wide, the clearance below the bridge is 51 m (167 ft), and the two pylons are 149 m (489 ft) high. The cables are organised in a semi-fan arrangement.
The bridge was constructed in 1996–2000 and was opened for traffic on 20 May 2000.
Construction notes
Structural engineering for the bridge was carried out by Johs Holt AS, and Skanska Teknik AB. Skanska also served as general contractor, with subcontractors Alpin Technik und Ingenieurservice GmbH (general), VSL International (cables), Mageba (bearings), and PERI GmbH (formwork and scaffolding).
The cables are steel and the deck is composite steel-reinforced concrete, while the pylons are reinforced concrete. About 9,000 t (20,000,000 lb) of structural steel and 35,000 m³ (1,200,000 cu ft) of concrete were used. The bridge and the connecting Sunningeleden cost of SEK 900 M (USD 111 M) in 2000 currency values. There is a problem with ice sticking to the cables in the winter, which can fall onto cars. The bridge has to be closed a few times per year for this reason. The alternative road is 12.8 km (8.0 mi) longer. Civil engineers have tested PETD (a way to use a burst of electricity to remove ice caked on walls or windows. For surfaces coated with a special film, the jolt gets rid of ice in less than a second, far less time than it takes to hack at it with an ice scraper).
Text imported from Wikipedia article "Uddevalla Bridge" and modified on 22 July 2019 under the CC-BY-SA 3.0 license.
Participants
Owner
Architecture
Structural engineering
Contractor
Subcontractor
Cables
Bearings
Formwork
Relevant Web Sites
Relevant Publications
Bridging the World

.

Bridge Ink

, Wilsonville (USA).
(2003):

(2007):

Cable Vibrations in Cable-Stayed Bridges

.

International Association for Bridge and Structural Engineering (IABSE)

, Zurich (Switzerland), ISBN 978-3-85748-115-4, pp. 131-132.

Erection of the Uddevalla Bridge

. Presented at: IABSE Conference: Cable-Stayed Bridges - Past, Present and Future, Malmö, Sweden, 2-4 June 1999, pp. 145-151.
(1999):

Foundation for the Uddevalla Bridge

. Presented at: IABSE Colloquium: Foundations for major bridges - Design and construction, New Delhi, India 1999, pp. 401.
(1999):

The maintenance of Uddevalla Bridge

. Presented at: IABSE Conference: Cable-Supported Bridges - Challenging Technical Limits, Seoul, South Korea, 12-14 June 2001, pp. 1-7.
(2001):
More publications...
About this
data sheet
Structure-ID
20000589
Published on:
14/01/2000
Last updated on:
05/02/2016