Rạch Miễu Bridge
General Information
Project Type
Location
Technical Information
Dimensions
main span
270 m
deck
width
15.7 m
main bridge
total length
513 m
span lengths
117 m - 270 m - 117 m
Case Studies and Applied Products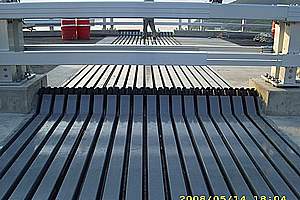 Modular Expansion Joints can be constructed for any movements, from about 100 mm up to 2,000 mm and more. They allow movements in all 3 directions and rotations around all 3 axes.
[more]
Participants
Design
Structural engineering
Expansion joints
Relevant Web Sites
Relevant Publications
First impressions

. In:

Bridge Design & Engineering

, v. 11, n. 38

(1st Quarter 2005)

, pp. 54-55.
About this
data sheet
Structure-ID
20015448
Published on:
07/03/2005
Last updated on:
20/03/2021