Notre-Dame de Paris
General Information
Project Type
Awards and Distinctions
Location
Technical Information
Dimensions
width
48 m
length
127 m
choir
width
12 m
length
38 m
crossing tower
height
96 m
nave
length
60 m
height to key of vault
33 m
width of central aisle
13 m
side aisles
width
5.9 m
height to key of vault
10.1 - 10.5 m
towers
height
69 m
transept
width
14 m
length
48 m
western façade
width
43.5 m
height
45 m
Materials
| | |
| --- | --- |
| roof | wood |
| building structure | stone |
Case Studies and Applied Products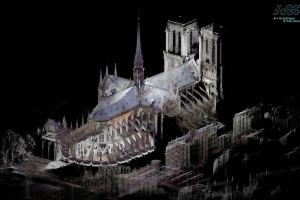 On Saturday, 20th April 2019, the AGP (Art Graphique & Patrimoine) team joined forces with FARO to carry out an emergency initiative to help save Notre-Dame. Conducted in just one day, this in ... [more]
Chronology
1163

First stone is laid. Bishop Maurice de Sully begins with the reconstruction of the cathedral.

1175

Beginning of works on the nave.

1177

Choir finished except for the vaults.

1196

Roof construction on-going.

1210

Work on the western façade begins.

1215

Western spans of the nave are completed.

1220

Rose in western façade (diameter 9.60 m).

1220

Modification of the flying buttresses. Construction of buttresses to take wind loads on top of the gutter walls.

1220 — 1225

Towers are finished.

1230

Beginning of enlargement of high windows.

1230 — 1240

Eastern chapels at the northern end of the nave by Pierre de Montreuil.

1245 — 1248

Chapels near the choir by Pierre de Montreuil.

ca. 1245 — 1296

Northern transept - widening of one span, chapels and façade according to plans by Jean de Chelles.

1250

Northern rose by Jean de Chelles (diameter 12.90 m).

1258

Southern transept - widening of one span and façade by Jean Chelles the Pierre de Montreuil.

1260

Southern rose by Pierre de Montreuil (diameter 12.90 m).

1725 — 1727

Reconstruction of the southern rose by Claude Penel under the guidance of architect Boffrant and at the cost of the Cardinal de Noailles.

1844

Beginning of restoration works by Viollet-le-Duc.

1861

Restoration of the southern rose by Viollet-le-Duc who modifies the outer tracings.

15 April 2019, 18:50
A fire starts in the roof structure of the cathedral near the base of the central spire. The fire burns for hours.
15 April 2019, 19:57
The wooden central spire, designed and built in the 19th century by Viollet-Le Duc collapses.
16 April 2019, 09:50
The speaker of the Paris fire brigade declares that the fire has been put out entirely. More than 400 firefighters were mobilised during the night to control and extinguish the fire. About two thirds of the original wooden roof structure dating back to the 12th and 13th centuries were completely destroyed in the fire. Some of the vaulting was damaged as well but generally the structure of the cathedral and its towers remain intact.

During the fire, about 30% of the artwork and other valuables in the cathedral were moved to safety including the treasure. Relics stored in the spire where however lost. The statues at the foot of the central spire had fortunately been removed on April 11 for restauration and thus could not have been damaged in the fire.
Participants
Architecture
(role unknown)
Renovation
Architecture
Restoration
Architecture
Relevant Web Sites
Relevant Publications
More publications...
About this
data sheet
Structure-ID
20000272
Published on:
21/05/1999
Last updated on:
01/01/2022