Gersthofen Bridge (A8)
General Information
| | |
| --- | --- |
| Name in local language: | Lechbrücke Gersthofen |
| Beginning of works: | 2004 |
| Completion: | 2008 |
| Status: | in use |
Project Type
Location
Technical Information
Dimensions
span
109.00 m
bridge surface
4 194.00 m²
walkway width
3 m
arches
rise
17.55 m
number
4
deck
girder depth
1.82 m
total width
41.00 m
Materials
| | |
| --- | --- |
| deck | composite steel-reinforced concrete |
| arches | steel |
| abutments | reinforced concrete |
Case Studies and Applied Products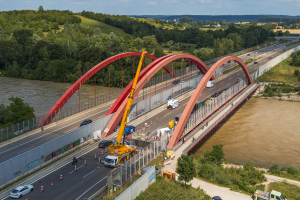 In just 57 hours, the expansion joints of a highway bridge near Augsburg were replaced. Of this, the freeway was fully closed for less than 6 hours.
[more]
Participants
Initial construction (2004-2008)
Owner
Client
Design
Structural engineering
Expansion joint replacement (2021)
Client
Expansion joints
Relevant Web Sites
There currently are no relevant websites listed.
Relevant Publications
About this
data sheet
Structure-ID
20064659
Published on:
27/02/2013
Last updated on:
16/12/2021