Tirohanga Whanui Footbridge, Auckland, NZ
Incorporation of Maori 'Korero' Cultural Narratives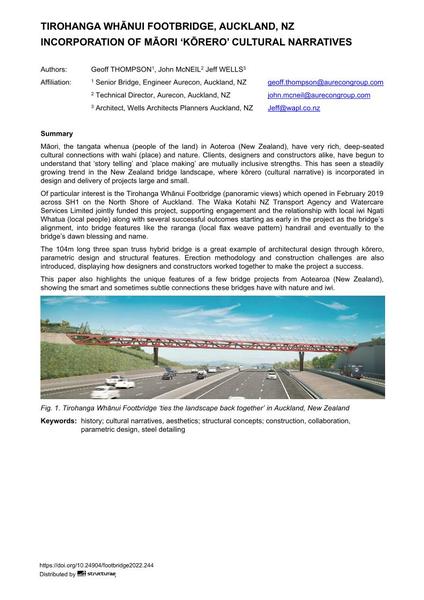 Author(s):

Geoff Thompson

(Senior Bridge, Engineer Aurecon, Auckland, NZ)


John McNeil

(Technical Director, Aurecon, Auckland, NZ)


John Wells

(Architect, Wells Architects Planners Auckland, NZ)

Medium:
conference paper
Language(s):
English
Conference:
Footbridge 2022: Creating Experience, Madrid, Spain, 07-09 September 2022
Published in:
Footbridge Madrid 2022 - Creating Experience
DOI:
10.24904/footbridge2022.244
Abstract:

Māori, the tangata whenua (people of the land) in Aoteroa (New Zealand), have very rich, deep-seated cultural connections with wahi (place) and nature. Clients, designers and constructors alike, have begun to understand that 'story telling' and 'place making' are mutually inclusive strengths. This has seen a steadily growing trend in the New Zealand bridge landscape, where kōrero (cultural narrative) is incorporated in design and delivery of projects large and small.

The Tirohanga Whānui (panoramic views) Footbridge in Auckland is a project where kōrero is integrated into the design. The bridge is an example of architectural design through kōrero, parametric design and structural features. The 104m long three span truss hybrid has organic voids with apertures that vary in response to the stresses in the structure. With the people-focused cultural lens in mind, the bridge detailing will be discussed.

This paper will also highlight the unique features of a few bridge projects from Aotearoa (New Zealand), showing the smart and sometimes subtle connections these bridges have with nature and iwi (local community or tribe).

Keywords:

aesthetics

parametric design

history

construction

structural concepts

collaboration

steel detailing

cultural narratives

License:

This creative work is copyrighted. The copyright holder(s) do(es) not grant any usage rights other than viewing and downloading the work for personal use. Further copying or publication requires the permission of the copyright holder(s).