Footbridges Embraced by Their Users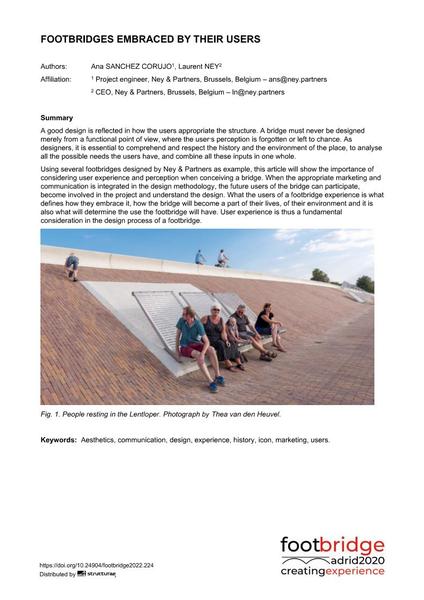 Author(s):

Ana Sanchez Corujo

(Project engineer, Ney and Partners, Brussels, Belgium)


Laurent Ney

(CEO, Ney and Partners, Brussels, Belgium)

Medium:
conference paper
Language(s):
English
Conference:
Footbridge 2022: Creating Experience, Madrid, Spain, 07-09 September 2022
Published in:
Footbridge Madrid 2022 - Creating Experience
DOI:
10.24904/footbridge2022.224
Abstract:

A good design is reflected in how the users appropriate the structure. During the design process of a bridge, it is essential to consider the life it could have after its opening, how the inhabitants of a place will embrace it and make it part of the environment where they live. Using several footbridges designed by Ney & Partners as example, this article will show the importance of considering user experience when conceiving a bridge. When a design is successful, the structure can become an icon, crossing the footbridge can be an experience, it can be the place where users go to spend time. A design should never be reduced to mere functionality. Building involves social responsibility and designs should be carefully planned so that the bridge becomes part of the live of its users and is integrated in its environment.

Keywords:

aesthetics

design

history

communication

experience

marketing

icon

users

License:

This creative work is copyrighted. The copyright holder(s) do(es) not grant any usage rights other than viewing and downloading the work for personal use. Further copying or publication requires the permission of the copyright holder(s).