The Dinosaur Bridge – innovation in structural form & fabrication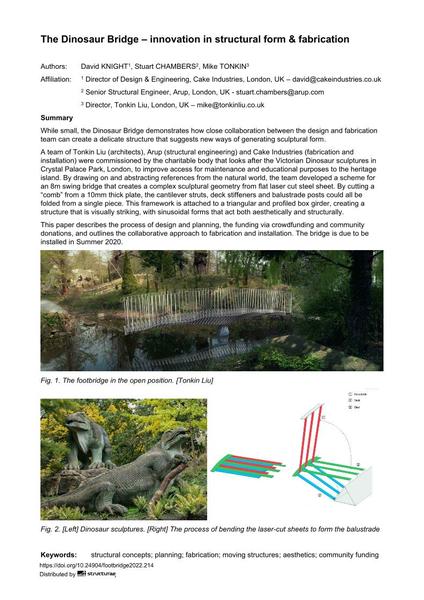 Author(s):

David Knight

(Director of Design &amp)


Stuart Chambers

(Engineering, Cake Industries, London, UK)


Mike Tonkin

(Senior Structural Engineer, Arup, London, UK)

Medium:
conference paper
Language(s):
English
Conference:
Footbridge 2022: Creating Experience, Madrid, Spain, 07-09 September 2022
Published in:
Footbridge Madrid 2022 - Creating Experience
DOI:
10.24904/footbridge2022.214
Abstract:

This paper describes the process of design and planning, the funding via crowdfunding and community donations, and outlines the collaborative approach to fabrication and installation. The bridge is due to be installed in Summer 2020.

Keywords:

aesthetics

fabrication

structural concepts

planning

Moving Structures

community funding

License:

This creative work is copyrighted. The copyright holder(s) do(es) not grant any usage rights other than viewing and downloading the work for personal use. Further copying or publication requires the permission of the copyright holder(s).
Structures and Projects