A Challenging Slenderness
Nonnekloppen Bridge in Bergen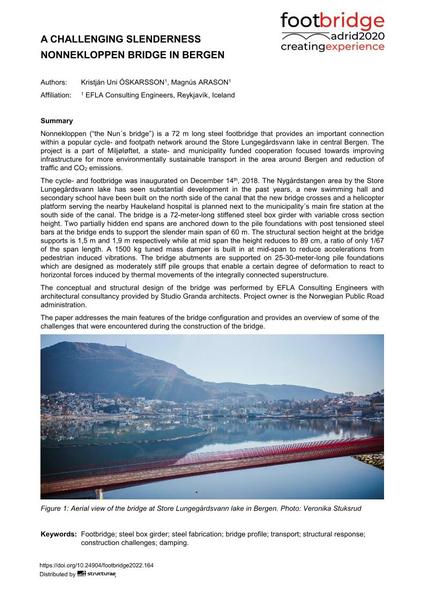 Author(s):

Kristján Uni Óskarsson

(EFLA Consulting Engineers, Reykjavík, Iceland)


Magnús Arason

(EFLA Consulting Engineers, Reykjavík, Iceland)

Medium:
conference paper
Language(s):
English
Conference:
Footbridge 2022: Creating Experience, Madrid, Spain, 07-09 September 2022
Published in:
Footbridge Madrid 2022 - Creating Experience
DOI:
10.24904/footbridge2022.164
Abstract:

Nonnekloppen ("the Nun´s bridge") is a 72 m long steel footbridge that provides an important connection within a popular cycle- and footpath network around the Store Lungegårdsvann lake in central Bergen. The project is a part of Miljøløftet, a state- and municipality funded cooperation focused towards improving infrastructure for environmentally sustainable transport in the area around Bergen and reduction of traffic and CO2 emissions.

The paper addresses the main features of the bridge configuration and provides an overview of some of the challenges that were encountered during the construction of the bridge.

Keywords:

footbridge

damping

steel box girder

construction challenges

structural response

transport

steel fabrication

bridge profile

License:

This creative work is copyrighted. The copyright holder(s) do(es) not grant any usage rights other than viewing and downloading the work for personal use. Further copying or publication requires the permission of the copyright holder(s).