Nuts & Bolts of Construction History [Vol. 3]
Culture, Technology and Society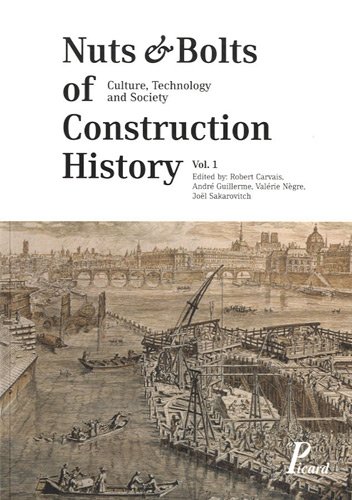 Editor(s):

Robert Carvais




André Guillerme




Valérie Nègre




Joël Sakarovitch



Medium:
conference proceedings
Language(s):
ISBN-10:
2708409298
ISBN-13:
978-2-7084-0929-3
Publisher:
Picard
Published in:

Paris

, France
Conference:
Fourth International Congress on Construction History, Paris, 3-7 July 2012
Page(s):
728
Purchase from:
Articles
Author(s)
Title
Page(s)

Álvarez

,

Alberto Sanjurjo

The Chambiges and the Construction of Vaulted Stone Spiral Starcases
67-74

Amici

,

Carla Maria

A Cloaca Maxima in the Roman Town of Privernum, Lazio, Italy: The Project, the Plan, the Construction
565-572

Atzbach

,

Rainer

The Stube: Constructive Evidence for the Concept of a Smoke-Free Heated Living Room betwene the Alps and Southern Scandinavia
269-276

Balboni

,

Laura

Artificial Light in the Aristocratic Palaces in the Po Valley between the 17th and 18th Centuries
333-340

Barber

,

Daniel A.

Constructing a Solar House, c. 1959
367-378

Bonavita

,

Andrea

Building the New Prisons of Venice and Their Bridge [1591-1604]
149-156

Brauchle

,

Antonia

Cellars: Construction and Insulation through the Beginning of the 20th Century
479-486

Buonapane

,

Stephen

The Timber Trusses of R.W. Smith: History, Design and Behavior
599-606

Buršić

,

Marina Šimunić

Construction of Early Rib-Vaults in Croatia
61-66

Caldas

,

Joao

The Use of Vaults in the Reconstruction of Pombaline Downtown Lisbon
495-502

Cassinello

,

Pepa

Pioneer Concrete Shells in Spanish Architecture: The Innovation System-Design of Ildefonso Sánchez del Rio
117-124

Caston

,

Philip S.C.

The Pentagon Ramparts and Bastions of Fortress Rosenberg in Kronach, Germany
37-44

Chatzikonstantinou

,

Evangelia

Road Construction in Greece during the Interbellum: The Markis Project
637-646

Conlon

,

Ciarán

James Hardress de Warenne Waller and His Contribution to Shell Roof Construction, Concrete and Fabric Formwork Technologies
125-132

Cuerda

,

Rafael

Rationalization of Systems and Materials in Construction in the Spanish Modern Movement: Fernando Garcia Mercadal, 1921-1937
413-420

Curto

,

Davide Del

Technical Systems and Networks for a Modern High Altitude Settlement: The Construction of the Sanatorium Village in Sondalo [1932-1946]
675-683

Dandria

,

Silvia

Commercial Categories and Applications of Construction Timber in the Trentino-Verona Area [14th-16th Centuries]
183-192

de Vijver

,

Dirk Van

Hygiene in Belgian Architecture: The Case of Victor Horta [1861-1947]
325-332

Decri

,

Anna

The Historical Aqueduct of Genoa: Materials, Techniques and History ‒ A Way to Know
525-532

Delemontey

,

Yvan

Flaine: Mountain City; The Building of a High Altitude Citadel
449-456

der Tempel

,

Maaike van

Innovations in Ventilation: Wind Cowls in the 19th Century
317-324

Dessales

,

Hélène

Not Built in a Day: Awareness of Vulnerability and Construction Techniques in Roman Times
471-478

Díaz

,

Enrique Rabasa

The 100 Ft Vault: The Construction and Geometry of the Sala dei Baroni of the Castel Nuovo, Naples
53-60

Dimitriadi

,

Leda

Post-War Industrialized Construction Processes in France and Architectural Flexibility
385-394

Domínguez

,

Rosa Senent

The Irregular Ribbed Vault of the Sacristy of the Cathedral of Saint-Jean Baptiste in Perpignan
75-82

Eres

,

Zeynep

A New Approach in Studying the Structural Systems of Preshitoric Wooden Post Buildings: A Case Study from Aşağı Pınar in Eastern Thrace
149-156

Eßer

,

Gerold

Masonry Constructions as Built Archives: An Innovative Analytical Approach to Reconstrucing the Evolution of Imperial Opus Testaceum Brickword in Rome
13-20

Espion

,

Bernard

The Vierendeel Bridge at its Heyday: Rational Design, Experiments and Brittle Failure
253-260

Fallacara

,

Giuseppe

The Lecce Vault: History, Construction Techniques and New Design Perspectives
99-105

Fares

,

Kinda

The Dismantled War: Barracks and Industrialization of Light Construction [1914-1918]
395-404

Fatta

,

Giovanni

Tiled Vaults in Western Sicily: Originality and Continuity of an Imported Building Technique
487-494

Fedorov

,

Sergej

Rebuilding of St. Petersburg's Winter Palace in the Context of Early Europea Steel Structures 1838-1850s: Contemporary Sources and Documents
203-214

Fernandez

,

Vanessa

The Simplification of the Frame: Window Experiments in the Work of Le Corbusier in the 1920s
405-412

Ferrari

,

Ivan

The Roman Bridges of the Via Traiana: An Innovative Building System
573-578

Figures

,

Maite Palomares

Architectural Expression in the 60s and the Prefabrication of Formwork
457-462

Fonkenell

,

Guiiaume

The Roof Frame of the Salon Carré
515-524

Friedman

,

Donald

Two Crystal Palaces: Constructive Technology and Practice; Great Britain 1851 ‒ United States 1853
215-224

Gallo

,

Emmanuelle

Scientific Developments of Heating and Ventilation Professional Unions and Learned Societies in France during the First Part of the 20th Century
299-307

García

,

Rafal García

Concrete Meccanos: Precast Constructions after the Second World War in the Netherlands
421-430

Gasparini

,

Dario A.

Sunderland, Birdsall and the Roebling Co: Development and Diffusion of Construction Technologies for Suspension Bridges, 1928-1952
667-674

Gohari

,

Kambiz Mosthtaghe

The Morphological Evolution of the Vertical Axle Windmill between the Second and the 18th Centuries A.D.
369-366

Greco

,

Laura

The First ENI-SNAM Headquarters in San Donato Milanese: Some Features of Industrialization in Construction Techniques Applied to Office Buildings in the Post Second World War Period in Italy
439-448

Guillerme

,

André

Postscript: For a multilingual Dictionary of Construction History
685-690

Harrer

,

Alexandra

Fan-Shaped Bracket Sets and Their Application in Different Building Materials: A Discussion of the Chinese Fangmu Tradition and Jin-dynasty Tomb Architecture in Southwest Shanxi Province
167-174

Hnilica

,

Sonja

Competitive Building Systems: Post-War University Architecture in the Ruhr Area
463-469

Holzer

,

Stefan M.

Innovation in 19th Century Vaulted Bridge Construction
589-598

Honda

,

Yasuhiro

Construction Process of the Tsujunkyo Aqueduct Bridge [1854] ‒ A Case Study of Japanese Bridge Construction in the Edo Period
541-548

Hoshino

,

Yuji

Historical Research for the Planning and Construction of Misumi Port
647-656

Krauskopf

,

Christof

Medieval Timber Structures in Eastern Germany: Archaeological Evidence from Eberswalde
175-182

Kurapkat

,

Dietmar

A Roof under One's Feet: Early Neolithic Roof Constructions at Göbekli Tepe, Southeastern Turkey
157-166

Lancaster

,

Lynne C.

Heated Vaulting in Roman Britain and the Invention of Hollow Terracotta Voussoirs
261-268

Manfredi

,

Carlo

Comfort versus Industry: Maintenance of the Royal Palaces of Milan during the 1860s
289-298

Marino

,

Giulia

The World Health Organization Headquarters in Geneva [1960-1966]: How Mechanical and Electrical Services are Integral to Reading Built Form
351-358

Martínez

,

Esther Redondo

Tests on Tile Vaults in France in the 19th Century
107-116

May

,

Roland

Shell Wars: Franz Dischinger and Ulrich Finsterwalder
133-141

Muñoz

,

Rosana

The Most Important Construction in Bahia's 19th Century History: Salvador's Mountain Retaining Wall
607-616

Papavasileiou

,

Spyridon

The Construction and Integration of Historc Heating Systems in Churches in the United Kingdom from the 17th to the Early 20th Century
277-288

Pelke

,

Eberhard

The Development of Multi-Cable-Stayed Bridges
657-666

Petralla

,

Stefania

Safavid Ribbed Vaults as a Masterpiece of Iranian Construction Techniques
91-98

Porrino

,

Matteo

Notes on Technological and Architectural Aspects of London Transport Power Stations and Substations, 1880-1915
617-626

Prokop

,

Ines

Wrought Iron and Steel Structures in Berlin in Their Prime from 1875 to 1925, with a Focus on Buildings for the Arts
225-234

Puerto

,

Francisco Pinto

The Scaenae Frons of the Roman Theatre of Itálica: Notes on the Construction Process
21-28

Quatember

,

Ursula

Opus revinctum in Dome and Barrel Vault Constructions in Roman Asia Minor
45-52

Rociola

,

Giuseppe

Wooden Embankments in the Lagoon Territory of Capitanata between the 18th and 19th Centuries
533-540

Ryan

,

Richard C.

Development and Use of Mechanized Heavy Construction Equipment in the United States
579-588

Sampaoli

,

Giulio

Artificial Light in Architecture in France and Italy during the First Years of the 20th Century: From Gas Light to Electric Light
341-350

Sassa

,

Akio

The First Earthquake-Resistant Structures in Japan: Lessons from the Forgotten Earthquake of Ischia [1883], Nobi [1891] and San Francisco [1906]
503-514

Shelton

,

Ted

The Highway Comes to the American City: Automobility, Urbanity and the Functioning of City Streets
627-636

Slivnik

,

Lara

A Prefabricated Cast Iron Three-Hinged Arch Bridge in Ljubljana
235-242

Suits

,

Maris

Reinforced Concrete Shells in Estonia during the Soviet Period: Science and Practice
143-147

Talaverano

,

Rafael Martin

Late German Gothic Methods of Vault Design and Their Relationships with Spanish Ribbed Vaults
83-90

Tanaka

,

Naoto

The Role of the Tsujun Irrigation Canal's Construction and Maintenance in the Creation of a Cultural Landscape [Shiraito Plateau, Kumamoto, Japan]
549-556

Theodossopoulos

,

Dimitris

The Achievement of Structural Stability in the Drystone Iron-Age Broch Towers in North Scotland
3-12

Togilani

,

Carlo

Water Pumping Plants for Land Drainage in the Po Valley, A Case Study of The Mantua Region [1866-1940]: People, Techniques, Materials
557-563

Turri

,

Francesca

The Military Engineers and Hygiene in Barracks in the Second Half of the 19th Century
308-316

Vargas

,

Hernando

RetCel: The Development of Floor and Roof Assemblies of Precast Concrete Cells in Colombia, 1949-1989
431-438

Voght

,

Maud De

Foundation Techniques in the Early Modern Low Countries [1600-1750]: A Problematic Case ‒ St. Walpurgis in Antwerp
29-36

Wannous

,

Samaher

The Thermal Insulation of Facades after the Oil Crisis of 1974 to the 80s
379-383

Wetzk

,

Volker

Historic Bridge Bearings: Material Resarch on Cast Steel
243-252

Wünnemann

,

Anja

Wooden 'Italian' Wide-Span Roofs of German 19th Century Theatre Buildings
193-201
Structurae cannot make the full text of this publication available at this time.
About this
data sheet
Reference-ID
10077873
Published on:
24/04/2018
Last updated on:
30/09/2018