Nuts & Bolts of Construction History [Vol. 2]
Culture, Technology and Society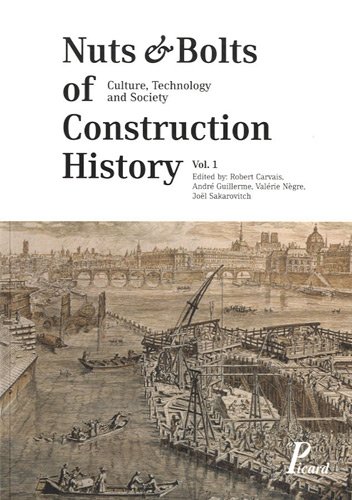 Editor(s):

Robert Carvais




André Guillerme




Valérie Nègre




Joël Sakarovitch



Medium:
conference proceedings
Language(s):
ISBN-10:
2708409298
ISBN-13:
978-2-7084-0929-3
Publisher:
Picard
Published in:

Paris

, France
Conference:
Fourth International Congress on Construction History, Paris, 3-7 July 2012
Page(s):
664
Purchase from:
Articles
Author(s)
Title
Page(s)

Anaya Díaz

,

Jesús

Reinforced and Prestressed Concrete in High-Rise Construction in Spain, 1950-1975: Technique and Innovation
619-626

Antonini

,

Anna

Persistence of the Perishable; Wattle-and-Daub Architectures in the Roman Period: A Census of the Archaeological Findings in Gallia Cisalina and the Case of Mediolanum
361-374

Artola Blanco

,

Miguel

Changing Patterns in Residential Construction and the Real Estate Market: Spain, 1910-1960
255-264

Avenier

,

Cédric

Auguste Perret: The Grenoble Orientation Tower ‒ Architecture, Art and the Press
609-618

Bachmann

,

Martin

The Revival of Classical Building Techniques in Late Ottoman Architecture in Bergama, Turkey
491-500

Baker

,

Nina

Who Paints the House? Scotswomen as Housepainters and Decorators from 1820
53-62

Barbot

,

Michaela

Between Market and Architecture: The College of Engineers, Architects and Land Surveyors in Real Estate Pricing in 16th-18th Century Milan
237-244

Barelli

,

Lia

Construction Methods in Carolingian Rome [Eighth-Ninth Centuries]
135-144

Bellicoso

,

Alessandra

Technological Innovation and Traditional Building Methods in the First Application of Reinforced Concrete in L'Aquila: The "New Provincial Insane Asylum" [1903-1916]
601-608

Bernardi

,

Philippe

For a History of Deconstruction
453-460

Bertolazzi

,

Angelo

Stone Cladding Techniques in French Modern Architecture [1920-1940]
443-452

Boiardi

,

Luca

History and Technique of an Italian Wooden Floor System Based on Reeds and Gypsum Plaster Frames: The Case of Reggio Emilia
549-555

Burt

,

Richard

The Builder's Flying Squads: An Analysis of the Ministry of Works Special Repair Service Activities during WWII
191-198

Büttner

,

Stéphane

The Use of the "Already There": Reuse and Recycling for Monumental Building in the West in Late Antiquity and the Medieval Period
461-468

Casadevall

,

Gemma Domènech

Building Trades in Catalonia during the Modern Era: The Case of Immigration to Girona City
31-36

Çelik

,

Gülşah

A Case Study of Local Builder's Carpentry Tools: Traditional Constructions of Ürünlü, Turkey
11-16

Clarke

,

Linda

The Significance of Building Labour to the Production of the Built Environment
107-114

Cofani

,

Marco

The Knowledge and the Development of Mortars between the 18th and 19th Centuries: The Case Study of the Verona Amphitheatre Restoration
539-548

Conchon

,

Anne

Road Construction Sites in 18th Century France: Labor and Administration in Action
165-172

Contier

,

Felipe

The Material Genesis of an Icon: The Construction of the Building of FAU USP [1961-1969]
329-336

Cook

,

Elzabeth

Building Culture and Competence: Demonstrating Knowledge on Construction Sites in 18-Century Virginia
23-30

Currà

,

Edoardo

Manual Abilities and Modern Constructive Techniques in a Building by Arturo Hoerner: The S. A. Supertessile Plant and the System Baroni-Lüling, Rieti-Italy, 1926
647-656

Daneels

,

Annick

Earthen Building Techniques in the Humid Tropics: The Archaeological Site of La Joya, Veracruz, México
353-360

Davidovits

,

Frédéric

Geological Origin of the Reagents Constituting Roman Mortar, According to Vitruvius
517-522

de Freitas

,

Maria Luiza

Architecture and Reinforced Concrete in Brazil: The Action of the Largest Construction Companies in Brazil, Christiani & Nielsen and Wayss & Freytag
91-98

de Voorde

,

Stephanie Van

The 'Scientification' of Reinforced Concrete in Belgium during the Interwar Period: Development and Dissemination of Scientific, Theoretical and Technical Knowledge
637-646

Díaz

,

Jorge Galindo

Barbetti Serafin: Builder of Vaulted Bridge in South-Western Colombia [c. XIX]
47-52

do Vale

,

Clara Pimenta

Urban Dynamics and Horizontal Property: Case Study of the Boavista Axis, Porto, Portugal
265-271

Dobraszczyk

,

Paul

A Victorian Ironworld: Cast Iron, Ornament and Brighton
565-571

dos Santos

,

Roberto Eustaáquio

The Plot of Concrete in Brazil: A History of the Technology Diffusion in Reinforced Concrete
323-328

Dunkeld

,

Malcolm

The Great Hall of the Institution of Civil Engineers Headquarters Building
273-280

Frapier

,

Christel

Conceiving the Industrialization of Construction in France in the 1950s
337-344

Guibert

,

Pierre

The Use of Dating Methods for Studying Building Materials and Constructions: State of the Art and Current Challenges
469-480

Gzowska

,

Alicja

An Institution for Structural Innovation: Office for the Study and Design of Industrial Building Types [BISTYP] in Postwar Poland
281-288

Heinz

,

Reinhard

The First Verifiable Application of Cast Mortar in Prefabricated Construction in the Coffered Ceiling of the Early Hellenistic Mausoleum of Belevi
523-530

Heldt D'Almeida

,

Carolina

Analysis of the Construction Site as a Historical Document of Its Production Process
199-206

Hellebois

,

Armande

Concrete Piling: Major Developments in the Historical Practice of Pile Foundations
583-592

Hsu

,

Hsin-Yao

On the Construction Process of Government Buildings in Taiwan during the Japanese Colonial Period, 1895-1945
63-71

Isaac

,

Catherine

Reconsidering the "Considerable Expense" Involved in Building the Lavaur Bridge in Languedoc [1769-1791]
173-180

Janssen

,

Jörn

Construction Work in Four German States: Before, during and after the Cold War
115-124

Jenkins

,

Moses

Three Key Aspects of the History of Brick Construction in Scotland
383-390

Kapp

,

Silke

Metropolitan Vernacular: On the History of Informal Construction in a Brazilian City
3-10

Koury

,

Ana Paula

Brazilian Construction Center: Innitiative for Management of the Brazilian Housing Construction Industry [1969-1972]
290-296

l'Héritier

,

Maxime

The Role of Iron Armatures in Gothic Constructions: Reinforcement, Consolidation or Commissioner's Choice
557-564

Lewis

,

Miles

Marseilles Tile
391-400

Marconi

,

Nicoletta

Innovation and Tradition in the Reconstruction of the Basilica of St. Paul Outside the Walls in Rome [1825-1928]: Technologies, Procedures, protagonists
181-190

Martinez-Gonzalez

,

Javier

Building Modern Spain: Some Notes on Huarte y Cía
99-106

McGuinness

,

John

Air Raid Shelters in the United Kingdom 1939-1945: An Initial Investigation
657-664

Medina

,

Raúl Romero

Building during the War of Granada: The Project for Reconstructing Fuengirola in 1485
145-148

Melo

,

Arnaoldo

Construction Financing in Late Medieval Portuguese Towns [14th-16th Centuries]
305-312

Montelli

,

Emanuela

The Reuse of Granite Columns in Rome, 15th-16th Centuries
481-490

Okada

,

Sachiko

A Study on Distribution and Reuse of Tram Line Paving Stones in Japan
501-507

Petit

,

Joëlle

Private Archives of the 18th and 19th Centuries: Sources for the History of Marble-Working in Belgium
73-80

Pinon

,

Matthieu

The Building of the Arsenal of Le Havre in the 17th and 18th Centuries
157-164

Quist

,

Wido J.

A Mining Engineer in Heritage Land: A.L.W.E. Van der Veen and Early Research on Natural Stone for the Netherlands State Commission on Conservation [1920-1936]
435-442

Rabeneck

,

Andrew

The Transformation of Construction by Concrete
627-636

Ramírez Pacheco

,

Gema

Building Expropriation Process for the Construction of the New Dock at the Port of Cartagena [Spain] in the 18th Century
245-254

Robson

,

Kenneth F.

Managing the Design and Construction of the Empire State Building: Are There Lessons for Today's Projects?
207-216

Roff

,

Shelley E.

Building Construction in Medieval Spain: The Female Perspective
17-22

Saner

,

Turgut

The Aeolian-Style Polygonal Masonry in Larisa [Buruncuk] and its Regional Context
427-434

Schlimme

,

Hermann

François Hennebique's Patents as Applied on the Building Site: The Mercato Orientale in Genoa [1896-1899] and the Creation of a Local Construction Network
573-582

Silva-Contreras

,

Mónica

Béton Armé in a Sinking City: Mexico 1902-1914
593-600

Soor

,

Musa

The Role of the Islamic Pious Foundations [Waaf] in Building the Old City of Jerusalem during the Islamic Periods [637-1917]
229-236

Soria

,

Gemma Muñoz

Load-Bearing Wall Structures in the Works of Lluis Nadal
417-425

Theodossopoulos

,

Dimitris

From Master Mason to Architect: James Smith's Construction Techniques at the End of 17th Century in Scotland
37-46

Thuswaldner

,

Barbara

The Use of Mortar in Late Hellenistic Construction: The Case of the Octogon in Ephesus
531-538

Tolosa

,

Ricardo

Construction of Railway Workshops in Colombia during the First Half of the 20th Century: A National Engineering Triumph
345-351

Vacher

,

Hélène

Research and Construction in the Late Colonial Settings: Institutions, Technology and Development Programs in Africa, 1948-1958
313-322

Vegas

,

Fernando

Traditional Structures Made with Gypsum Pillars: A Reasoned Hypothesis
509-516

Verswijver

,

Koen

The Development of Belgian Ironworks in the 19th Century: Case Studies and Reflections on Sources and Historiography
81-90

Villate

,

Camilo

The Avianca Tower: Practices Driving Technical Innovations in a Construction Firm in the 60s
217-227

Wall

,

Christine

Concrete Constructors: Oral History Accounts of Building Work on a Large, Complex Site in 1960s Britain
125-133

Weber

,

Christiane

Construction Material Testing at MPA Stuttgart during the Third Reich
297-304

Wermiel

,

Sara

Against Replication: Carved Brick at the Dawn of the Terracotta Age
401-408

Wu

,

Nan-Wie

Structural Morphology Presented on Surface Cladding: From Structural Brick to Ornamental Tile in the Westernised Far East
409-416

Zessin

,

Jennifer

Efficiency in Form: Thomas Jefferson's Serpentine Walls at the University of Virginia
375-382
Structurae cannot make the full text of this publication available at this time.
About this
data sheet
Reference-ID
10077872
Published on:
24/04/2018
Last updated on:
30/09/2018