Standardization of Three Efficient Footbridges: Von Mises, Monocontentio and Bicontentio Prototypes.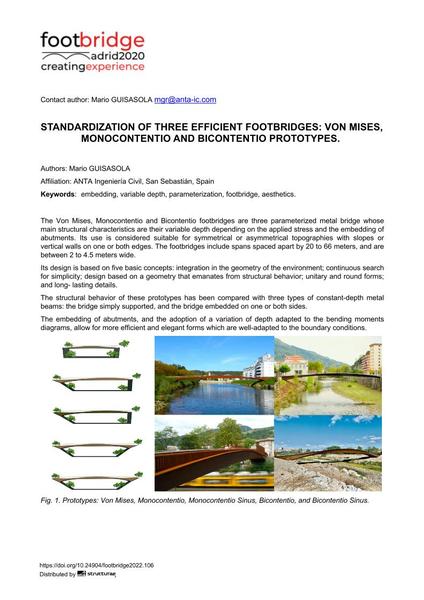 Author(s):

Mario Guisasola

(ANTA Ingeniería Civil, San Sebastián, Spain)

Medium:
conference paper
Language(s):
English
Conference:
Footbridge 2022: Creating Experience, Madrid, Spain, 07-09 September 2022
Published in:
Footbridge Madrid 2022 - Creating Experience
DOI:
10.24904/footbridge2022.106
Abstract:

The Von Mises, Monocontentio and Bicontentio footbridges are three parameterized metal bridge whose main structural characteristics are their variable depth depending on the applied stress and the embedding of abutments. Its use is considered suitable for symmetrical or asymmetrical topographies with slopes or vertical walls on one or both edges. The footbridges include spans spaced apart by 20 to 66 meters, and are between 2 to 4.5 meters wide.

Its design is based on five basic concepts: integration in the geometry of the environment; continuous search for simplicity; design based on a geometry that emanates from structural behavior; unitary and round forms; and long- lasting details.

The structural behavior of these prototypes has been compared with three types of constant-depth metal beams: the bridge simply supported, and the bridge embedded on one or both sides.

The embedding of abutments, and the adoption of a variation of depth adapted to the bending moments diagrams, allow for more efficient and elegant forms which are well-adapted to the boundary conditions.

Keywords:

aesthetics

footbridge

parameterization

variable depth

embedding

License:

This creative work is copyrighted. The copyright holder(s) do(es) not grant any usage rights other than viewing and downloading the work for personal use. Further copying or publication requires the permission of the copyright holder(s).