Spanning the American West
Bootstrapping Opportunities for Design in an Engineering Led Context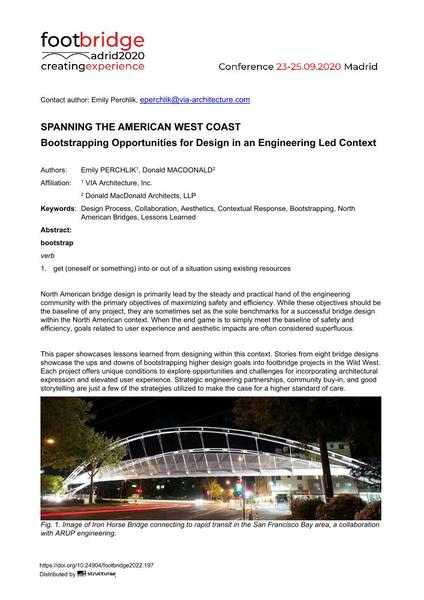 Author(s):

Emily Perchlik

(VIA Architecture, Inc.)


Donald MacDonald

(Donald MacDonald Architects, LLP)

Medium:
conference paper
Language(s):
English
Conference:
Footbridge 2022: Creating Experience, Madrid, Spain, 07-09 September 2022
Published in:
Footbridge Madrid 2022 - Creating Experience
DOI:
10.24904/footbridge2022.197
Abstract:

North American bridge design is dominated by a culture of risk aversion and economic constraint. While objectives of safety and efficiency should be the baseline of any project, they are sometimes set as the sole benchmarks for a successful bridge design within the North American context. When the end game is to simply meet the baseline of safety and efficiency, goals related to user experience and aesthetic impacts are often considered superfluous. This paper showcases lessons learned from designing within this context.

Stories from bridge designs showcase the ups and downs of bootstrapping higher design goals into footbridge projects in the Wild West.

Keywords:

aesthetics

design process

collaboration

lessons learned

Contextual Response

Bootstrapping

North American Bridges

License:

This creative work is copyrighted. The copyright holder(s) do(es) not grant any usage rights other than viewing and downloading the work for personal use. Further copying or publication requires the permission of the copyright holder(s).