The "Pont Du Lion", Saint-Genis Pouilly, France: a Creative Transformation to Redefine the City Entrance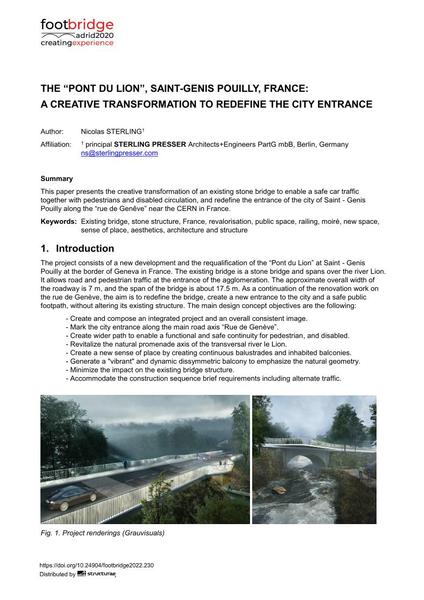 Author(s):

Nicolas Sterling

(principal STERLING PRESSER Architects+Engineers PartG mbB, Berlin, Germany)

Medium:
conference paper
Language(s):
English
Conference:
Footbridge 2022: Creating Experience, Madrid, Spain, 07-09 September 2022
Published in:
Footbridge Madrid 2022 - Creating Experience
DOI:
10.24904/footbridge2022.230
Abstract:

This paper presents the creative transformation of an existing stone bridge to enable a safe car traffic together with pedestrians and disabled circulation, and redefine the entrance of the city of Saint - Genis Pouilly along the "rue de Genêve" near the CERN in France.

Keywords:

aesthetics

railing

existing bridge

public space

France

stone structure

revalorisation

moiré

new space

sense of place

architecture and structure

License:

This creative work is copyrighted. The copyright holder(s) do(es) not grant any usage rights other than viewing and downloading the work for personal use. Further copying or publication requires the permission of the copyright holder(s).