New Suspension Footbridges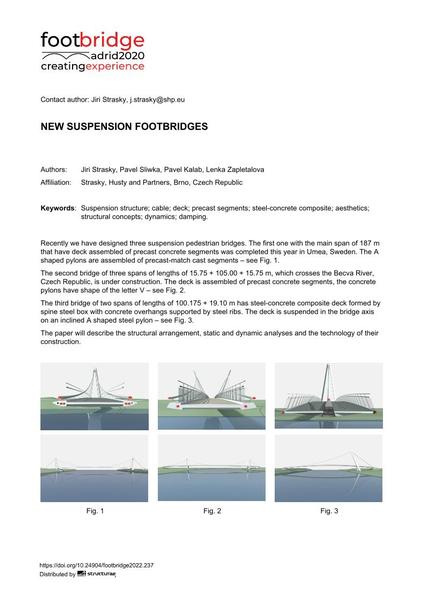 Author(s):

Jiří Stráský




Pavel Sliwka




Pavel Kaláb




Lenka Zapletalova



Medium:
conference paper
Language(s):
Conference:
Footbridge 2022: Creating Experience, Madrid, Spain, 07-09 September 2022
Published in:
Footbridge Madrid 2022 - Creating Experience
DOI:
10.24904/footbridge2022.237
Abstract:

Three suspension pedestrian and cyclist bridges built in Sweden and in the Czech Republic are described in terms of their architectural and structural solution, static and dynamic behaviour, and technology of their construction. The bridges with span length up to 179 m have slender decks which are fix connected with suspension cables. The dynamic analysis proved that all structures are comfortable to users and they have a sufficient aerodynamic stability. The footbridges are structurally efficient, they are light and transparent, correspond to the scale of the landscape and the structural members have human dimensions.

Keywords:

cable

deck

dynamics

steel-concrete composite

suspension structure

precast segments

License:

This creative work is copyrighted. The copyright holder(s) do(es) not grant any usage rights other than viewing and downloading the work for personal use. Further copying or publication requires the permission of the copyright holder(s).