Lessons Learnt from the Structural Design and Construction of the Lille Langebro, Copenhagen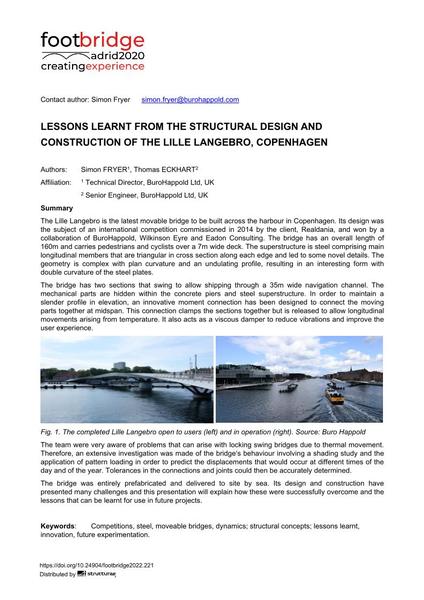 Author(s):

Simon Fryer

(Technical Director, Buro Happold, UK)


Thomas Eckhart

(Senior Engineer, Buro Happold, UK)

Medium:
conference paper
Language(s):
English
Conference:
Footbridge 2022: Creating Experience, Madrid, Spain, 07-09 September 2022
Published in:
Footbridge Madrid 2022 - Creating Experience
DOI:
10.24904/footbridge2022.221
Abstract:

The Lille Langebro is a major new pedestrian and cycle bridge over the harbour in Copenhagen. The bridge forms a sleek, low level crossing that curves in plan as well as elevation. The superstructure consists of fabricated steel box sections of complex geometry and includes two balanced double cantilever spans on slew bearings which rotate to allow the passage of large ships. The rotating spans are fixed together in the closed position by an arrangement of proprietary mechanical components which form an innovative structural moment connection at mid-span. The complex nature of the structure presented many challenges to the design and construction that were successfully overcome through close cooperation between the client, designers and contractors. This paper will explain some of these challenges and the lessons that can be learnt for use in future projects.

Keywords:

steel

competitions

structural concepts

dynamics

innovation

moveable bridges

lessons learnt

future experimentation

License:

This creative work is copyrighted. The copyright holder(s) do(es) not grant any usage rights other than viewing and downloading the work for personal use. Further copying or publication requires the permission of the copyright holder(s).