Hip Hop, a Contemporary Footbridge Designer's Delight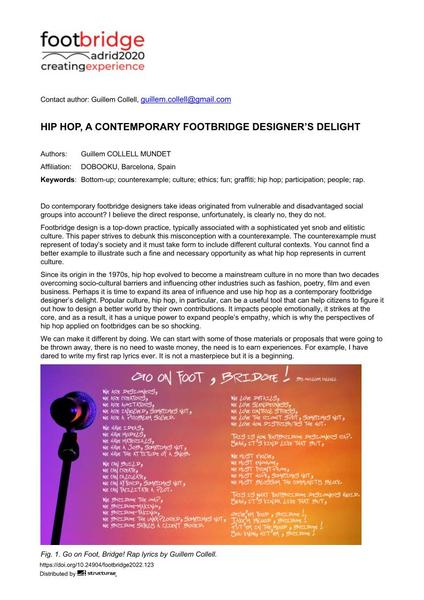 Author(s):

Guillem Collell

(Dobooku, Barcelona, Spain)

Medium:
conference paper
Language(s):
English
Conference:
Footbridge 2022: Creating Experience, Madrid, Spain, 07-09 September 2022
Published in:
Footbridge Madrid 2022 - Creating Experience
DOI:
10.24904/footbridge2022.123
Abstract:

Do contemporary footbridge designers take ideas originated from vulnerable and disadvantaged social groups into account? I believe the direct response, unfortunately, is clearly no, they do not.

Footbridge design is a top-down practice, typically associated with a sophisticated yet snob and elitistic culture. This paper strives to debunk this misconception with a counterexample. The counterexample must represent of today's society and it must take form to include different cultural contexts. You cannot find a better example to illustrate such a fine and necessary opportunity as what hip hop represents in current culture.

Keywords:

graffiti

participation

ethics

culture

Bottom-up

counterexample

fun

hip hop

people

rap

License:

This creative work is copyrighted. The copyright holder(s) do(es) not grant any usage rights other than viewing and downloading the work for personal use. Further copying or publication requires the permission of the copyright holder(s).