Genesis of footbridge design, from a community perspective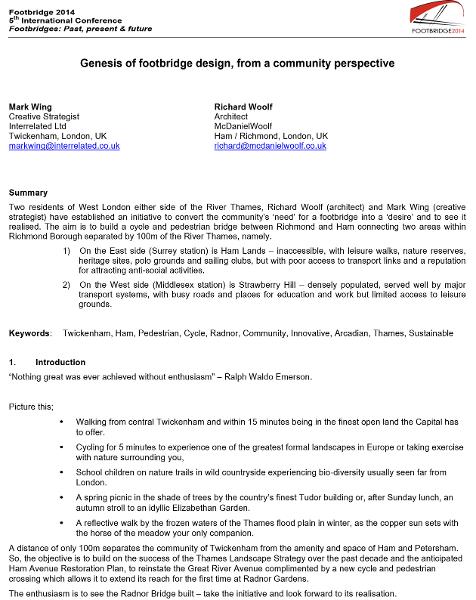 Author(s):

Mark Wing




Richard Woolf



Medium:
conference paper
Language(s):
Conference:
Footbridge 2014 - Past, Present & Future, London, 16-18 July 2014
Published in:
Footbridge 2014 - Past, Present & Future
Year:
2014
Abstract:

Two residents of West London either side of the River Thames, Richard Woolf (architect) and Mark Wing (creative strategist) have established an initiative to convert the community's 'need' for a footbridge into a 'desire' and to see it realised. The aim is to build a cycle and pedestrian bridge between Richmond and Ham connecting two areas within Richmond Borough separated by 100m of the River Thames, namely.

On the East side (Surrey station) is Ham Lands – inaccessible, with leisure walks, nature reserves, heritage sites, polo grounds and sailing clubs, but with poor access to transport links and a reputation for attracting anti-social activities.
On the West side (Middlesex station) is Strawberry Hill – densely populated, served well by major transport systems, with busy roads and places for education and work but limited access to leisure grounds.

Keywords:

pedestrian

community

Twickenham

sustainable

Ham

Cycle

Radnor

Innovative

Arcadian

Thames

License:

This creative work is copyrighted. The copyright holder(s) do(es) not grant any usage rights other than viewing and downloading the work for personal use. Further copying or publication requires the permission of the copyright holder(s).