Frequency-amplitude of Vibration of Modern Aesthetic Footbridges for Walking and Cycling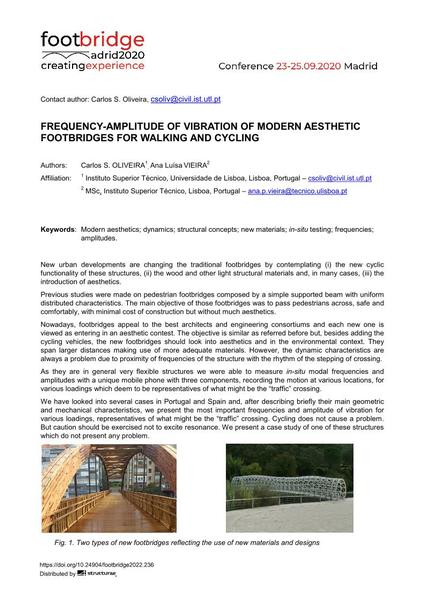 Author(s):

Carlos Sousa Oliveira

(Professor, CERIS/Instituto Superior Técnico, Lisboa, Portugal)


Ana Luísa VIEIRA

(MSc, Instituto Superior Técnico, Lisboa, Portugal)

Medium:
conference paper
Language(s):
English
Conference:
Footbridge 2022: Creating Experience, Madrid, Spain, 07-09 September 2022
Published in:
Footbridge Madrid 2022 - Creating Experience
DOI:
10.24904/footbridge2022.236
Abstract:

New urban developments are changing the traditional footbridges by contemplating (i) the new cyclic functionality of these structures, (ii) the wood and other light structural materials and, in many cases, (iii) the introduction of aesthetics. Previous studies were made on pedestrian footbridges composed by a simple supported beam with uniform distributed characteristics. The main objective of these past projects was to pass pedestrians across, safe and comfortably, with minimal cost of construction, without much aesthetics.

Nowadays, footbridges appeal to the best architects and engineering consortiums and each new one is viewed as entering in an aesthetic contest. The objective now is similar as referred before but, besides adding the cycling vehicles, they should look into aesthetics and to the environmental context. They span larger distances making use of more adequate materials. However, the dynamic characteristics might be a problem due to proximity of frequencies of the structure with the rhythm of the stepping of crossing. This is the objective of this paper to understand if more complex geometries and different materials pose problems. After looking into several cases in Portugal and Spain and, describing their main geometric and mechanical characteristics, the most important frequencies of vibration and amplitude of oscillation for various loadings were analyzed. Caution should be exercised to not excite resonance conditions. A case study of one of these structures is analysed in detail for deterministic conditions. Cycling is not a problem.

Keywords:

structural concepts

dynamics

frequencies

new materials

in-situ testing

Modern aesthetics

amplitudes

License:

This creative work is copyrighted. The copyright holder(s) do(es) not grant any usage rights other than viewing and downloading the work for personal use. Further copying or publication requires the permission of the copyright holder(s).