Footbridge over the New Bypass Road of Sant Pere Sacarrera (Spain)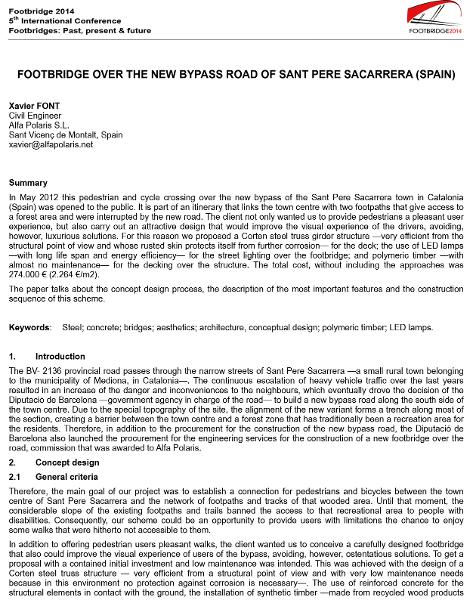 Author(s):

Xavier Font



Medium:
conference paper
Language(s):
English
Conference:
Footbridge 2014 - Past, Present & Future, London, 16-18 July 2014
Published in:
Footbridge 2014 - Past, Present & Future
Year:
2014
Abstract:

In May 2012 this pedestrian and cycle crossing over the new bypass of the Sant Pere Sacarrera town in Catalonia (Spain) was opened to the public. It is part of an itinerary that links the town centre with two footpaths that give access to a forest area and were interrupted by the new road. The client not only wanted us to provide pedestrians a pleasant user experience, but also carry out an attractive design that would improve the visual experience of the drivers, avoiding, however, luxurious solutions. For this reason we proposed a Corten steel truss girder structure —very efficient from the structural point of view and whose rusted skin protects itself from further corrosion— for the deck; the use of LED lamps —with long life span and energy efficiency— for the street lighting over the footbridge; and polymeric timber —with almost no maintenance— for the decking over the structure. The total cost, without including the approaches was 274.000 € (2.264 €/m²).

The paper talks about the concept design process, the description of the most important features and the construction sequence of this scheme.

Keywords:

aesthetics

steel

concrete

bridges

architecture

conceptual design

polymeric timber

LED lamps

License:

This creative work is copyrighted. The copyright holder(s) do(es) not grant any usage rights other than viewing and downloading the work for personal use. Further copying or publication requires the permission of the copyright holder(s).