Engaging the Public Through the Design of the Eastwick and Sweetwater Footbridge, London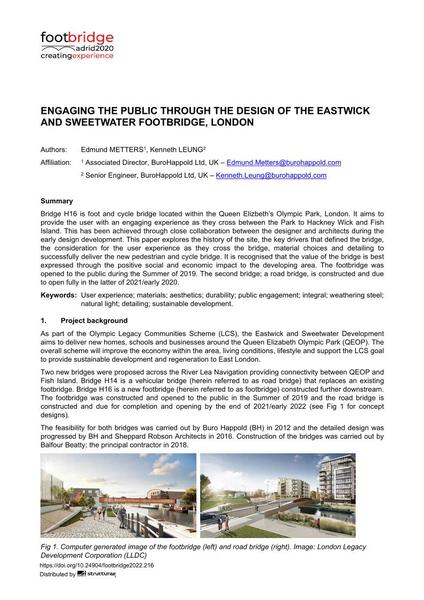 Author(s):

Edmund Metters

(Associated Director, BuroHappold Ltd, UK)


Kenneth Leung

(Senior Engineer, BuroHappold Ltd, UK)

Medium:
conference paper
Language(s):
English
Conference:
Footbridge 2022: Creating Experience, Madrid, Spain, 07-09 September 2022
Published in:
Footbridge Madrid 2022 - Creating Experience
DOI:
10.24904/footbridge2022.216
Abstract:

Bridge H16 is foot and cycle bridge located within the Queen Elizbeth's Olympic Park, London. It aims to provide the user with an engaging experience as they cross between the Park to Hackney Wick and Fish Island. This has been achieved through close collaboration between the designer and architects during the early design development. This paper explores the history of the site, the key drivers that defined the bridge, the consideration for the user experience as they cross the bridge, material choices and detailing to successfully deliver the new pedestrian and cycle bridge. It is recognised that the value of the bridge is best expressed through the positive social and economic impact to the developing area. The footbridge was opened to the public during the Summer of 2019. The second bridge; a road bridge, is constructed and due to open fully in the latter of 2021/early 2020.

Keywords:

aesthetics

durability

sustainable development

weathering steel

materials

detailing

user experience

integral

public engagement

natural light

License:

This creative work is copyrighted. The copyright holder(s) do(es) not grant any usage rights other than viewing and downloading the work for personal use. Further copying or publication requires the permission of the copyright holder(s).