Dynamic Assessment of the Longest Single-Span Timber Footbridge in Spain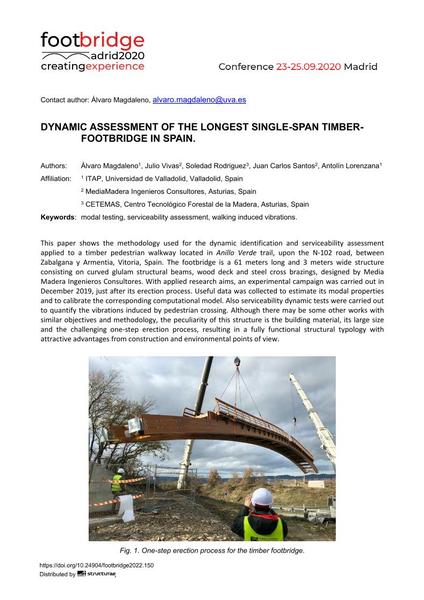 Author(s):

Álvaro Magdaleno

(ITAP, Universidad de Valladolid, Valladolid, Spain)


Julio Vivas

(MediaMadera Ingenieros Consultores, Asturias, Spain)


Soledad Rodríguez

(CETEMAS, Centro Tecnológico Forestal de la Madera, Asturias, Spain)


Juan Carlos Santos

(MediaMadera Ingenieros Consultores, Asturias, Spain)


Antolín Lorenzana

(ITAP, Universidad de Valladolid, Valladolid, Spain)

Medium:
conference paper
Language(s):
English
Conference:
Footbridge 2022: Creating Experience, Madrid, Spain, 07-09 September 2022
Published in:
Footbridge Madrid 2022 - Creating Experience
DOI:
10.24904/footbridge2022.150
Abstract:

This paper shows the methodology used for the dynamic identification and serviceability assessment carried out on a timber pedestrian walkway located in the Anillo Verde trail, upon the N‐102 road, between Zabalgana and Armentia, Vitoria, Spain. The footbridge is 61 meters long and 3 meters wide and consists of curved glulam structural beams, wood deck and steel cross bracings, designed by Media Madera Ingenieros Consultores. With applied research aims, an experimental campaign was carried out in December 2019, just after its erection process. Useful data was collected to estimate its modal properties and to calibrate the corresponding computational model. Also, some serviceability tests were carried out to quantify the vibrations induced by pedestrian crossing. Although there may be some other works with similar objectives and methodology, the peculiarity of this structure is the building material, its large size and the challenging one‐step erection process, resulting in a fully functional structural typology with attractive advantages from construction and environmental points of view.

Keywords:

modal testing

serviceability assessment

walking induced vibrations

License:

This creative work is copyrighted. The copyright holder(s) do(es) not grant any usage rights other than viewing and downloading the work for personal use. Further copying or publication requires the permission of the copyright holder(s).