Contextual Footbridge Design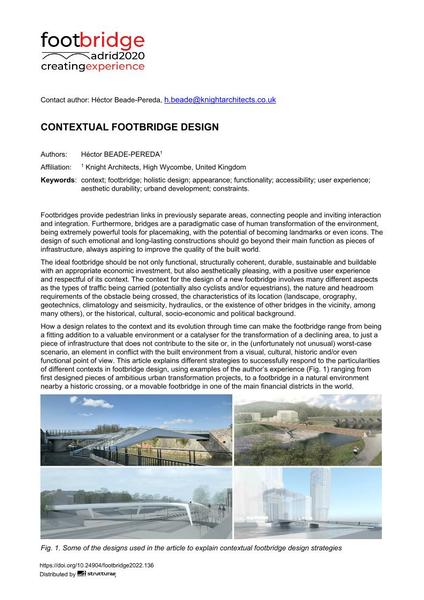 Author(s):

Héctor Beade-Pereda

(Head of Design, Knight Architects, High Wycombe, UK)

Medium:
conference paper
Language(s):
English
Conference:
Footbridge 2022: Creating Experience, Madrid, Spain, 07-09 September 2022
Published in:
Footbridge Madrid 2022 - Creating Experience
DOI:
10.24904/footbridge2022.136
Abstract:

The design of footbridges, paradigmatic cases of human transformation of the environment, should go beyond their main function as pieces of infrastructure, always aspiring to improve the quality of the built world. How a design relates to its specific context and its evolution through time is crucial to that respect. A positive response to the context in the design can lead to footbridges that are, for example, fitting additions to valuable environments, or catalysers for the transformation of declining areas. A less successful response, on the contrary, may just lead to crossings without further contribution to the site or, in the unfortunately not unusual worst-case scenario, to elements in conflict with the built environment from various points of view.

The article describes different strategies to successfully respond to the particularities of different contexts in footbridge design, using examples of the author's experience ranging from first designed pieces of ambitious urban transformation projects, to a footbridge in a natural environment nearby a historic crossing, or a movable footbridge in one of the main financial districts in the world.

Keywords:

footbridge

appearance

urban development

accessibility

context

user experience

holistic design

functionality

constraints

aesthetic durability

License:

This creative work is copyrighted. The copyright holder(s) do(es) not grant any usage rights other than viewing and downloading the work for personal use. Further copying or publication requires the permission of the copyright holder(s).