Contest for a Bridge for Pedestrians and Bicycles across the River Minho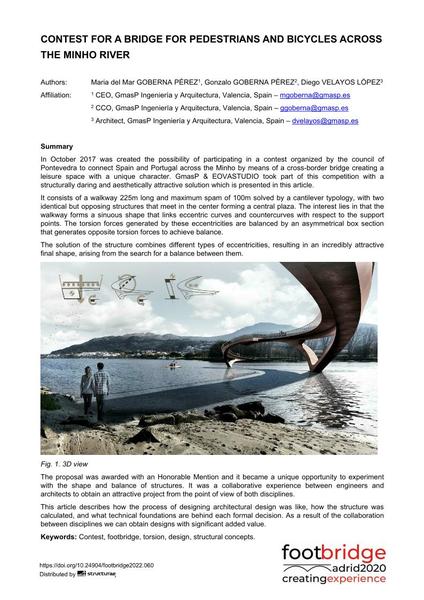 Author(s):

Maria Del Mar Goberna Pérez

(CEO, GmasP Ingeniería y Arquitectura, Valencia, Spain)


Gonzalo Goberna Pérez

(CCO, GmasP Ingeniería y Arquitectura, Valencia, Spain)

Medium:
conference paper
Language(s):
English
Conference:
Footbridge 2022: Creating Experience, Madrid, Spain, 07-09 September 2022
Published in:
Footbridge Madrid 2022 - Creating Experience
DOI:
10.24904/footbridge2022.060
Abstract:

This paper describes the process of designing an architectural and structural design for the contest of a pedestrian bridge across the river Minho. The process of analyzing design conditions and adopting a solution is developed through teamwork between the architects and the structure engineering studio. The solution finally adopted, and its structural interest is described in such a way that it allows to establish a conclusion on the experience of participating in multidisciplinary teams of different companies and their collaboration, considering the adjusted deadlines of a competition

Keywords:

design

footbridge

torsion

structural concepts

Contest

License:

This creative work is copyrighted. The copyright holder(s) do(es) not grant any usage rights other than viewing and downloading the work for personal use. Further copying or publication requires the permission of the copyright holder(s).