Connecting a Region: Foothills Trail White River Bridge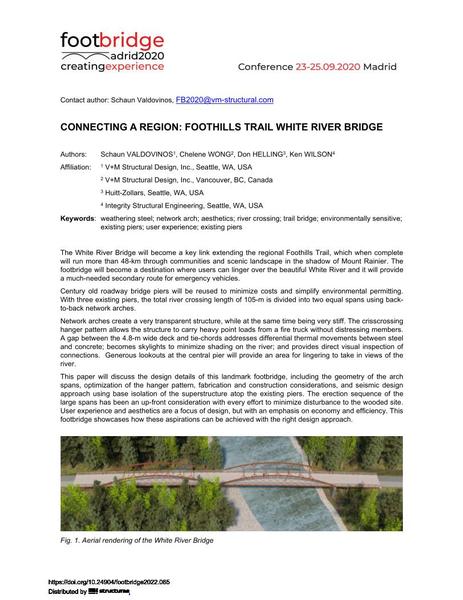 Author(s):

Schaun Valdovinos

(President and Principal Engineer, V+M Structural Design, Seattle, WA, USA)


Chelene Wong

(Bridge Engineer, V+M Structural Design, Vancouver, BC, Canada)


Don Helling

(Project Manager, Huitt-Zollars, Seattle, WA, USA)


Ken Wilson

(Bridge Consultant, Integrity Structural Engineering, Seattle, WA, USA)

Medium:
conference paper
Language(s):
English
Conference:
Footbridge 2022: Creating Experience, Madrid, Spain, 07-09 September 2022
Published in:
Footbridge Madrid 2022 - Creating Experience
DOI:
10.24904/footbridge2022.065
Abstract:

The White River Bridge will become a key link extending the regional Foothills Trail, which when complete will run more than 48-km through communities and scenic landscapes in the shadow of Mount Rainier. The three-span arch footbridge will become a destination where users can linger over the beautiful White River. It will also provide a much-needed secondary route for emergency vehicles.

The total bridge length of 174m is divided over three network arch spans. Network arches create a very transparent structure that is very stiff. The crisscrossing hanger pattern of the structure can carry heavy point loads from a fire truck without distressing members. Generous lookouts at the central pier will provide an area for users to linger and take in views of the river.

Key elements of the design included selection of the preferred geometry of the arch spans, optimization of the hanger pattern, fabrication and construction considerations, and seismic design approach using base isolation of the superstructure atop the supporting piers. The erection sequence of the large spans has been an up-front consideration with every effort to minimize disturbance to the wooded site. User experience and aesthetics are a focus of design, but with equal emphasis on economy and efficiency. This footbridge showcases how all these aspirations can be achieved with the right design approach.

Keywords:

aesthetics

network arch

rehabilitation

weathering steel

user experience

trail bridge

river crossing

environmentally sensitive

existing piers

License:

This creative work is copyrighted. The copyright holder(s) do(es) not grant any usage rights other than viewing and downloading the work for personal use. Further copying or publication requires the permission of the copyright holder(s).