Building 8500+ Trail Bridges in the Himalayas
Overcoming harsh terrain to connect remote mountain villages with services and resources through collaborative design for local context, community participation and mutual respect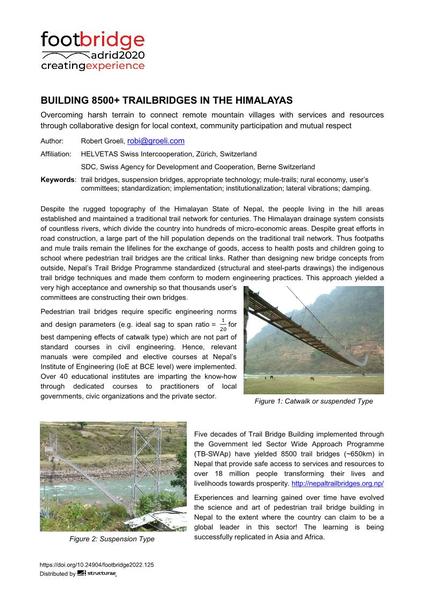 Author(s):

Robert Groeli

(HELVETAS Swiss Intercooperation, Zürich, Switzerland; SDC, Swiss Agency for Development and Cooperation, Berne, Switzerland)

Medium:
conference paper
Language(s):
English
Conference:
Footbridge 2022: Creating Experience, Madrid, Spain, 07-09 September 2022
Published in:
Footbridge Madrid 2022 - Creating Experience
DOI:
10.24904/footbridge2022.125
Abstract:

Mobility is one of the most challenging fundamentals of rural livelihood in the Himalayan hills and mountains. More than 8500 trail bridges, comprising an overall span-length of about 650 kilometers have been constructed to date, saving millions of walking hours for people living in the rural Himalayan areas. Previously, crossing rivers was dangerous and sometimes impossible, especially in the rainy season. These bridges created vital connections which enabled children to go to school and people to access public services and visit medical centers and sanctuaries. They also boost local economic output by reducing the effort required to run local farms, gather crops and visit regional markets.

Fig. 1:The struggles and dangers of crossing a river and its solution

Swiss technical assistance for rural trail bridges started in the early sixties with the construction of a few suspension bridges in the hill areas of Nepal. In 1964 the Nepalese Government established the Suspension Bridge Division (SBD), and starting in 1972 the Swiss Government began providing continuous technical and financial assistance. Similarly, the Public Works Department in Bhutan initiated a country wide trail bridge construction program in 1971 for which assistance was provided from 1985-2010. Exchanges of experiences between these programs created a collaborative environment where new ideas could be evaluated and tested in the field. After SBD initially developed the basic technical norms, design parameters and standard designs suitable for long-span bridges, demand for simpler shorter span bridges rose tremendously. This prompted the program to develop "community executable bridge designs" adapted to the local skills and materials while conforming to established engineering standards. As a result, cost-effective, easy to implement technologies and community-based approaches were developed, which have been replicated in numerous countries leading to multiple successful partnerships in international development cooperation.

The purpose of this paper is to highlight the following outcomes of the trail bridge-program:

Standardized cost-effective trail bridge designs based on local capabilities and bridge-building techniques

Published of manuals, technical drawings and teaching resources for design, construction and fabrication

Engaged local communities in the construction, operation and maintenance of trail bridges

Compiled comprehensive trail bridge directory for planning, monitoring and maintenance

Established Sector Wide Approach (SWAp) with institutional frameworks at national and local level

'South-South Cooperation' with Bhutan, Tanzania, Ethiopia, Indonesia, Laos, Burundi, Honduras, Guatemala

Keywords:

standardization

damping

lateral vibrations

trail bridges

suspension bridges

implementation

Appropriate technology

mule trails

rural economy

user's committees

institutionalization

License:

This creative work is copyrighted. The copyright holder(s) do(es) not grant any usage rights other than viewing and downloading the work for personal use. Further copying or publication requires the permission of the copyright holder(s).