Bridges for wobbly people
Balance disorders as an example of inclusive design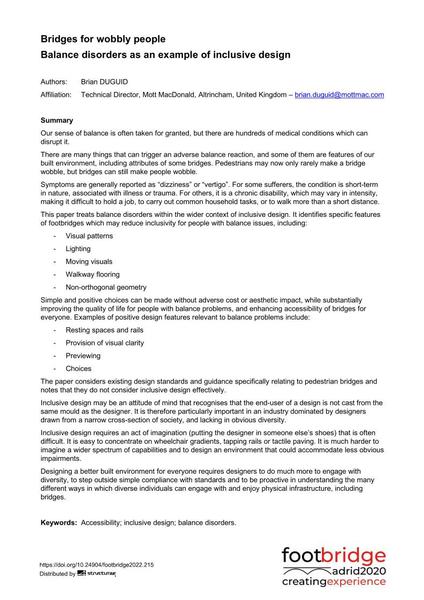 Author(s):

Brian Duguid

(Technical Director, Mott MacDonald, Altrincham, United Kingdom)

Medium:
conference paper
Language(s):
English
Conference:
Footbridge 2022: Creating Experience, Madrid, Spain, 07-09 September 2022
Published in:
Footbridge Madrid 2022 - Creating Experience
DOI:
10.24904/footbridge2022.215
Abstract:

Our sense of balance is often taken for granted, but there are hundreds of medical conditions which can disrupt it. Balance disorders can be severe in their impact, but there is little published guidance on how to design the built environment to be more accommodating to those who are affected.

This paper treats balance disorders within the wider context of inclusive design. It identifies specific features of footbridges which may reduce inclusivity. Relevant literature and guidance are reviewed.

Simple and positive choices can be made without adverse cost or aesthetic impact, while substantially improving the quality of life for people with balance problems, and enhancing accessibility of bridges for everyone. The wider challenge is to better understand the diversity of all bridge users, and engage imagination and creativity to address their varying needs.

Keywords:

accessibility

inclusive design

balance disorders

License:

This creative work is copyrighted. The copyright holder(s) do(es) not grant any usage rights other than viewing and downloading the work for personal use. Further copying or publication requires the permission of the copyright holder(s).