Interfaces: Architecture . Engineering . Science
Proceedings of the IASS Annual Symposium 2017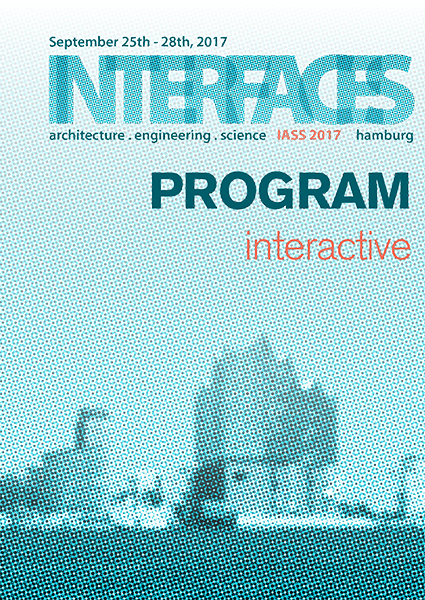 Herausgeber:

Annette Bögle




Manfred Grohmann



Medium:
Tagungsband
Sprache(n):
Verlag:
HafenCity University Hamburg, International Association of Shell & Spatial Structures (IASS)
Veröffentlicht in:

Hamburg

, Deutschland
Tagung:
Interfaces: Architecture, Engineering, Science, Annual Meeting of the International Association of Shell & Spatial Structures (IASS), Hamburg, 25-27 September 2017
Jahr:
2017
Bestellbar bei:
Artikel
Autor(en)
Titel
Seite(n)

Abedi

,

Karim

Investigation into the instability behavior of cable-strut barrel vault space structures with DP simplex

Adiels

,

Emil

Brick patterns on shells using geodesic coordinates

Akbarzadeh

,

Masoud

Prefab, Concrete Polyhedral Frame: materializing 3D graphic statics

Al-Qaryouti

,

Yousef

Comparison of Plate and Shell Timber-Composite Sandwich Structures

Al-Rawi

,

Kais

Generative geometry workflows – from concept to fabrication

Aldinger

,

Irmgard Lochner

Learning from insects: studies of nest structures

Alexandrou

,

Kristis

Hybrid bending-active structures with multiple cables

Alic

,

Vedad

Bi-directional Algebraic Graphic Statics On Force Diagram Constraints

Aloui

,

Omar

Cellular composition of planar tensegrity structures

Ander

,

Mats

Prestressed gridshell structures

Arendt

,

Stephan

Properties and applications of polymer concrete for timber constructions

Asadi

,

Hastia

A survey on strength deterioration of Polyester-PVC fabrics

Athanasopoulos

,

Georgios-Spyridon

Graphic statics applied on grid shell roofs

Avelino

,

Ricardo M.

Structural analysis of gridshells designed from singularities

Bai

,

Jie

Study on 3D-Printing reinforced masonry structure

Balz

,

Michael

Beyond the Cube - The Spirit of Frei Otto

Baniček

,

Maja

Affine transformations of three-hinged arches: reviving an old method

Baran

,

Pawel

Numerical analysis and design of the 3D printed, predeformed moulds for smalland medium-scale concrete applications

Bauer

,

Anna

Isogeometric Analysis for Modeling and Simulation of Building Processes

Bazzucchi

,

Fabio

Instability assessment of shallow structures using image capturing

Beccarelli

,

Paolo

Retrofitting of ETFE roofs

Behrens

,

Hendrik

Parametric design of hexagonal frame structures with planar faces

Bergis

,

Louis

Reciprocal Frame for the roof of the Franz Masereel Center

Bertetto

,

Amedeo Manuello

Snap-through and local buckling interaction in a timber dome: Bracing system vs. connection stiffness

Bessa

,

Miguel

Design of ultra-thin composite deployable shell structures through machine learning

Bessini

,

Juan

Form-finding of bending-active structures using kinematic constraints

Bischoff

,

Manfred

Modeling and analysis of the trapping mechanism of Aldrovanda vesiculosa as biomimetic inspiration for façade elements

Bleicher

,

Achim

Double Curvature for Volkswagen

Bletzinger

,

Kai-Uwe

Klaus Linkwitz and the invention of the Force Density Method

Blok

,

Rijk

Bio-Based Composite Bridge – Lessons Learned

Blonder

,

Arielle

Layered Fabric Materiality in Architectural FRP Surface Elements

Boulaud

,

Romain

A sliding cable model for rockfall barrier simulations using dynamic relaxation

Boulic

,

Léa

Graphic statics principles for the design of actively bent elements shaped with restraining systems

Bown

,

Adam

Comparison of membrane structure ponding behaviour; uniformly applied water loads vs. steady state water flow conditions

Boyce

,

Veronica

Structural Analysis of Havana's Historic Tropicana Night Club Shells: Arcos de Cristal

Brancart

,

Stijn

Bending-active reciprocal structures based on equilateral polyhedral geometries

Brodniansky

,

Ján

Experimental pendulum tests of laminated and float glass plates

Brown

,

Nathan

Automated performance-based design space simplification for parametric structural design

Brütting

,

Jan

Bending-Active Segmented Shells

Buffart

,

Henri

Non-flat folding mechanisms for structural purposes

Bukauskas

,

Aurimas

Form-Fitting Strategies for Diversity-Tolerant Design

Bülow

,

Peter von

Choosing parents to produce better preforming children: a comparison of selection methods used for evolutionary search

Burt

,

Michael

Urban and infrastructures marine development based on 'Fill Material Free' technology

Cai

,

Jianguo

Development of Kinetic Origami Canopy using Tapered Miura Folding Patterns

Cao

,

Ting

The global equilibrium of hypar-combined shell based on the method of graphic statics

Chaltiel

,

Stephanie

Digital fabrication phasing for monolithic shells

Chen

,

Pei-Shan

Buckling features of 1.5-layer space frames with crossing units

Chen

,

Wujun

Shear properties of P/G type architectural fabrics under biaxial extension

Chen

,

Yao

Automatic and exact symmetry recognition of structures exhibiting high-order symmetries

Chenaghlou

,

Mohammad Reza

Loading patterns for the estimation of seismic response of double-layer barrel vaults with vertical double-layer walls

Chenaghlou

,

Mohammad Reza

Structural morphology of a masonry space dome in Historical Tabriz Bazaar Complex

Cheng

,

Cesar

Towards Active Fabrication

Christensen

,

Jesper Thøger

Structural elements and joints a generator for design explorations

Christodoulou

,

Alexandros

Automated building stock data mining and classification using open source data

Coar

,

Lancelot

The design and construction of fabric formed ice shells with bending active frames utilizing principle stress patterns

Colabella

,

Sofia

Structural Design with Reclaimed Materials: an Elastic Gridshell out of Skis

Conti

,

Zack Xuereb

A Knowledge-oriented Approach to Performance-driven design Using Probabilistic Graphical Models

Cristie

,

Verina

Capturing And Visualising Parametric Design Flow Through Interactive Web Versioning Snapshots

Cruz

,

Paulo

Ceramic 3D printing – The future of brick architecture

Cui

,

Jinglan

An optimization method for generating self-equilibrium shape of curved surface from developable surface

Cuvilliers

,

Pierre

Hybrid structural skin prototype of elastic gridshell braced with a concrete envelop

Del Cueto

,

Juan Ignacio

Setting the Edge Free: Candela's Shells in San Antonio de las Huertas Church. Geometry and Construction

Dichorou

,

Eftychia

Finite element modelling to predict cracking and seismic collapse of a thin masonry shell structure

Dijoux

,

Cristoph

Parametric Engineering of a Historic Timber-Gridshell-System

Ďurejová

,

Jana

Cable roof types built in former Czechoslovakia toward the end of 20th century

D'Acunto

,

Pierluigi

Vector-Based 3D Graphic Statics: Transformations of Force Diagrams

Eisenbach

,

Philipp

Reusable concrete formwork systems made of sand and wax

Emami

,

Niloufar

Continuous to discrete: computational performative design and search of shell structures

Engelmann

,

Michael

Post‐breakage performance of a spherical glass shell

Eversmann

,

Philipp

Curved‐folding of thin aluminium plates: towards structural multi‐panel shells

Fang

,

Baoyi

Effect of Differential Foundation Settlement on Outrigger System of Super Tall Steel Buildings in Soft Soil

Fenci

,

Giulia

Deployment sequence optimisation of 3 degree of freedom systems

Fernandoy-Bak

,

Jessica

Cases of Lightweight Structures in Polar environments

Filz

,

Günther H.

Z-Snap Pavilion – advanced fabrication and assembly of self-locking, bending active modules into a semi-double-layer, shell-like structure

Franke

,

Lukas

How does the Zollinger Node really work?

Frenzel

,

Michael

Load-bearing behavior and efficiency of layered two-way slabs

Fromm

,

Asko

Reinforcement of additive manufactured concrete Elements

Fujita

,

Shinnosuke

Optimization of shape and thickness of continuum shell structures using 2D and 3D shell elements

Funke

,

Henrik

Application-specific adaptation of concrete formulations using genetic algorithms to optimize a wide range of different fit-functions

Gabriele

,

Stefano

Modal funicularity of shell structures

Gao

,

Xixin

A Monitoring Data Processing Method for Steel Structures during the Unloading Process of Temporary Supports

Gaspar

,

Orsolya

Lower bound of the minimum thickness values for circular masonry arches based on thrust line analysis considering various stereotomies

Gellin

,

Slade

Extension of elastica methodology to inflated cushions under applied transverse loading

Gericke

,

Oliver

Production of Curved Concrete Sandwich Panels Using a Frozen Sand Formwork

Giachini

,

Pedro

Irregular cable-nets: exploring irregularity as a driver for form and structure

Goessens

,

Sébastien

A few aspects of UAV-based timber construction

Goldbach

,

Ann-Kathrin

Isogeometric B-Rep Analysis for finding stress-optimized cutting patterns

Gonzalez

,

Andres

Study of a novel design for self-standing tensegrity domes

Gould

,

Phillip

Examining the resilience of chimneys and cooling towers

Gu

,

Lei

The Influence of Welded Hollow Spherical Joint on Energy Dissipation of Single-layer Reticulated Shell

Han

,

Qinghua

Study on the Assembled Hub joints in single-layer reticulated domes

Harding

,

John

The UWE Research Pavilion 2016

Harte

,

Reinhard

Large concrete shells for power generation

Hartz

,

Christian

The Application of 2D and 3D Graphic Statics in Design

Hawkins

,

Will

Thin-shell textile-reinforced concrete floors for sustainable buildings

Hayashi

,

Kazuki

Force density method for simultaneous optimization of geometry and topology of spatial trusses

Henke

,

Klaudius

Multifunctional Concrete Additive Manufacturing by the Use of Lightweight Concrete

Hoffmann

,

Susanne

IDFP interdisciplinary factory planning: the RWTH Aachen University model

Honda

,

Akinori

Geometrically Nonlinear Analysis of Three Dimensional Structure Model by Finite Element Technique with Coordinates Assumption

Hu

,

Jianhui

Electrical, thermal and mechanical properties of organic photovoltaic cells for buildings integrated photovoltaics (BIPV)

Huang

,

Qinglong

Applicability of an EMPA procedure for calculating the seismic responses of planar latticed arches

Huang

,

Weixin

A Weaving Structure for Design & Construction of Organic Geometry

Hudert

,

Markus

Digital Fabrication and Tectonic Space in Interlocking Particle Structures

Ihde

,

André

Preliminary information flow analysis of a tender project in Southeast Asia: Before clash analysis

Imbimbo

,

Maura

Global buckling algorithmic optimization in grid shell design

Ingold

,

Lukas

Structural Folding as a Source of Research for Sergio Musmeci

Ip

,

Gerry

Geometric Optimization of a Reciprocal Floor-Framing System with Self-Weight and Area-Loading Considerations

Iuorio

,

Ornella

A parametric investigation into the development of cold formed steel free form grid shells

Jakica

,

Nebojsa

Innovative Cable Net Curved-Glass Photovoltaic Façade

Jensen

,

Lotte M.B.

Sustainability Gains from combining LCA and Parametric Design in Early Design Phases of Structural Design

Jorquera-Lucerga

,

Juan José

Elements of Conceptual Design: an Innovative Course

Joyce

,

Sam

A Web Based Open Infrastructure and Tool for Viewing Parametric Project Development: Towards New Interfaces

Jungjohann

,

Hauke

Ontario Celebration Zone pavilion: a large pneumatic structure

Kadi

,

Michael El

3D fibre textiles as reinforcement for lightweight concrete structures

Kaijima

,

Sawako

Multi-Material Ratchet-like Mechanism for Interlocking Joint Details

Kamenická

,

Zuzana

Charring rate of timber structures in fire

Kamimura

,

Koichi

Computational morphogenesis of continuum shell structures using Improved ESO method

Kanno

,

Yoshihiro

A heuristic for truss topology optimization under constraint on number of nodes

Kao

,

Gene Ting-Chun

Assembly-aware design of masonry shell structures: a computational approach

Kato

,

Shiro

Buckling and Reliability of Cylindrical Lattice Shell under Snow Load

Kato

,

Shiro

Two-mode based evaluation of seismic loads for freeform single layer reticulated shell structures supported by substructures

Kawaguchi

,

Ken'ichi

Preliminary report of design and construction of a tensegrity tower and a pentagonal skeleton supporting a membrane roof

Kheirollahi

,

Mohammad

The influence of random geometric imperfections on the dynamic stability behavior of double-layer barrel vault roof with vertical double-layer walls under seismic excitation

Kimura

,

Satoru

The spiral staircases of Pier Luigi Nervi in the interwar period

Kitrick

,

Christopher

Icosahedral Roundest Polyhedra

Knaack

,

Ulrich

Additive Manufacturing for the Built Environment

Koj

,

Christoph

Timber joints and reinforcements with self-tapping screws – performance and challenges using high bonding lengthss

Komikado

,

Shingo

Structural Optimization for Hybrid Structure with Cable and Strut Member: Analysis Using Finite Element Technique with Coordinates Assumption

Konstantatou

,

Marina

3D Graphic statics and graphic kinematics for trusses

Köpple

,

Max

On the calculation of transverse shear stresses of layered plates with a mixed refined zigzag theory

Koronaki

,

Antiopi

Layout optimization of space frame structures

Kotnik

,

Toni

Livio Vacchini and the Problem of the Corner

Koumar

,

Aushim

Using Adaptable Scissor Structures for Post-Disaster Relief Sheltering

Krishnan

,

Sudarshan

Prestressed Stayed-Columns: Stability Behaviour and Recent Applicationss

Kromoser

,

Benjamin

How to inflate a hardened concrete shell with a weight of 80 t

Künstler

,

Arne

Mechanical approach to the design of deployable folding structures with virtually stiff plate elements

Kutterer

,

Mathias

The Hoisting of Ring Structures

Kyriazis

,

Manos

Renovation and increase of the capacity of the stadium of Panathinaikos F.C. in Athens

Lai

,

Xiao

Parametric Structural Dynamic Optimization of Steel Frame Using Rhino3D

Längst

,

Philipp

The Potentials of Isogeometric Analysis Methods in Integrated Design Processes

Latka

,

Jerzy

House of Cards – design and implementation of a paper house prototype

Laufs

,

Wilfried

Expansion of Spacial Realities Digital Fabrication Built in the US

Lázaro

,

Carlos

Tangent stiffness in point-loaded elastica arches

Leach

,

Jon

Four Summer Houses for the Serpentine Gallery

Leclerc

,

Christophe

Ultra-Thin Composite Deployable Booms

Ledderose

,

Lukas

From digital design to precise production: Dry-jointed coffered ceiling made of UHPFRC-components

Lee

,

Daniel Sang-Hoon

Conceptual Development of Single Layer Transformable Structure

Lee

,

Juney

Area-controlled construction of global force polyhedra

Lee

,

KyoungSu

Nonlinear Behavior Characteristics of Polyhedron Curved to Large Space Roof Using Quasicrystal System

Lee

,

Sang-Yun

On a form-finding concept of the natural draught cooling tower shell

Lengyel

,

András

Visualization of compatibility Paths in 4D: The square Antiprism as an Example

Lenticchia

,

Erica

Sensor placement strategies with application to the Hall B of Torino Esposizioni by Pier Luigi Nervi

Lewis

,

Steve

Minimizing the interface between design, engineering and fabrication for the delivery of a specialty structure

Li

,

Pengcheng

Dynamic stability analysis of cable-stiffened single-layer latticed shells subjected to seismic loading

Liao

,

Yuan

Geometric Design and Kinematics of Curvilinear Deployable Structures

Liapi

,

Katherine

Morphological exploration of curved tensegrity networks: towards minimal surface double-layer configurations

Lienhard

,

Julian

A Collaborative Model for the Design and Engineering of a Textile Hybrid Structure

Lienhard

,

Julian

Design and Engineering of form-fit steel connections for complex gridshell structures

Lindemann

,

Hendrik

Digital Prefabrication of freeform concrete elements using shotcrete technology

Linden

,

Sebastian

Renewal of the Membrane Ceiling at the Olympic Hall in Munich

Lipkovski

,

Jana

Optimization issues of advanced manufacturing and rapid prototyping processes in architecture and industrial design

Liu

,

Rui

Resilience: Lessons from Tensegrity Structures

Liu

,

Tingting

The resilience performance classification of latticed shell structures and the primary research of the evaluation system

Liuti

,

Alessandro

The Airshell prototype: a timber gridshell erected through a pneumatic formwork

Liuti

,

Alessandro

Innovation in festival architecture from design to construction

Llarena

,

Javier

Cable-roof extension for New San Mames Football Stadium. Design.

Llarena

,

Javier

Cable-roof extension for New San Mames Football Stadium. Erection.

Locatelli

,

Daniel Nunes

Algorithmic design for traditional bobbing lace methods

Loos

,

Lennert

Data visualisation for gaining insight in the behaviour of bow-string bridges under various load cases.

Ludwig

,

Matthias

"Formwork Virtuoso" Ulrich Müther (1934-2007): Exploring the Müther-Archive

Luitse

,

Simon

Reversed deconstruction: A method for the optimized assembly of prefab shell structures

Luo

,

Peng

Ice Architectural Design Teaching by Construction – Review of Sino-Euro Joint Studio of Ice Architecture Construction

Lupi

,

Francesca

Solar Updraft Power Plants: beyond structural challenges, towards multi-physical simulations

Ma

,

Zhi

An application of Bayesian dynamic model for Structural degradation estimation based on health monitoring data

Mae

,

Toshifumi

Wind pressure on spatial frame generated by sediment transport phenomena

Magna

,

Riccardo La

A case study on the influence of multi-scale modelling in design and structural analysis

Magna

,

Riccardo La

On the behaviour of bending-active plate structures

Mainka

,

Jeldrik

Non-waste wax formwork-technology: Innovative precision formwork for concrete members made of recyclable industrial waxes

Maleczek

,

Rupert

Interwoven folded stripes

Malek

,

Samar

Design and Structural Analysis for a Deployable Gridshell Shelter

Malek

,

Samar

Optimization of Spherical Cap Gridshells using Finite Element Analysis

Mándoki

,

Réka

Shell roofing of the KÖFÉM Factory – historical case study on the effect of geometrical imperfection

Marquis

,

Pierre

Building elastic gridshells from patches

Martens

,

Pascal

Optimising 3D Printed Concrete Structures using Topology Optimisation

Mayencourt

,

Paul

Digital Fabrication of Structurally Optimized Timber Beams

Mazzola

,

Carlotta

Project development of an ultra-lightweight bending-active temporary structure

McRobie

,

Allan

Graphic analysis of 3D frames: Clifford algebra and Rankine Incompleteness

Mendoza

,

Marisela

Documentation of Félix Candela's Jamaica Market hypar shells in Mexico City

Meyer

,

Joachim

Wind Loads for designing Hybrid Cooling Towers

Mirtsopoulos

,

Ioannis

An alternative, geometric methodology for topology optimization, applied to nodes of free form space frame structures

Miyamoto

,

Yoshinobu

Pop-up origami with thin concrete plates: tilt-up skeleton for vaults and domes

Miyasato

,

Naoya

Basic study on structural property of curved lattice structure having molecular geometry of carbon nanotube

Möller

,

Eberhard

Steps towards a cultural center for structural design – an interface between the engineering profession and the public

Monticelli

,

Carol

Application and validation of eco-efficiency principles to assess the design of lightweight structures: case studies of ETFE building skins

Moser

,

Franziska

Fungal mycelium as a building material

Moser

,

Franziska

Industrial building design studios an effective tool for the structural education of architects

Mu

,

Zaigen

Study on Economic Influencing Factors of Long Span Spatial Structure Type Selection

Musto

,

Juan

Stress oriented foldings as an optimized lightweight system

Nassar

,

Hussein

Macroscopic deformation modes of origami tessellations and periodic pin-jointed trusses: the case of the eggbox

Neuhaeuser

,

Stefan

Engineering the new Merck Innovation Center

Nielsen

,

Timo Harboe

Addressing buckling of compression members using subdivision of force diagrams

Niewiarowski

,

Alexander

Cable net systems under hydrodynamic loading: an overview of appropriate numerical modeling techniques

Nitta

,

Kazuya

Seismic response evaluation of HP lattice shells with various natural period ratios between roofs and supporting substructures

Oh

,

Chai Lian

Shape Change Analysis of Tensegrity Structure

Ohlbrock

,

Ole

Constraint-driven Design with Combinatorial Equilibrium Modelling

Ohsaki

,

Makoto

Approximate method for cutting pattern optimization of membrane structures

Okuno

,

Chikamasa

Dynamic design of Tochigi New Stadium

Oliva-Salinas

,

Juan Gerardo

Sustainable materials applicable to the construction of housing for vulnerable groups

Olsson

,

Jens

Sculptural Form finding with bending action

Osman Letelier

,

Juan Pablo

Shape optimization of concrete shells with ruled surface geometry using line geometry

Oval

,

Robin

Patterns for Masonry Vault Design

Pasquarelli

,

Gregg

Additive Manufacturing Revolutionizes Lightweight Gridshells

Pauletti

,

Ruy Marcelo

A Minimal Surface Membrane Sculpture

Pedrazzini

,

Andrea

The structure of Namics Headquarters, St. Gallen (CH)

Peters

,

Stefan

Parametrically designed free form gridshell for Chadstone Shopping Centre, Melbourne

Petersen

,

Javier

Evolutionary algorithm for timber shelter design

Petersen

,

Javier

Transferring reciprocal frame shelter building technology in emergency situations

Petroli

,

Marcos

Frontón Recoletos (Madrid, 1935) and Kimbell Museum of Art (Fort Worth/TE, 1972): a Structural Metaphor towards a New Monumentality

Pignatelli

,

Eduardo

InFormer: designing forming actions in post-formed gridshells by means of MOGAs

Pizzigoni

,

Attilio

Brunelleschi's herringbone hidden reciprocal structure and the form finding of its self-supporting bricks

Pofahl

,

Thorsten

A production process for batches of individual, freeformed sheet metal parts

Poirriez

,

Catherine

Layers in structure and architecture: Design and construction of a 100m span dome in Manila

Pone

,

Sergio

Timber post-formed gridshells as multi-purpose infrastructure for the design of urban public spaces

Pranjic

,

Andrija

Structural tree growth optimization

Pronk

,

Arno

3D printing of ice

Pronk

,

Arno

Success factors in the realization of large ice projects in education

Puppa

,

Giovanni Della

A generalized description of fold geometry

Quinn

,

Gregory

Augmented reality structures

Ramm

,

Ekkehard

Isogeometric analysis with hierarchic shell elements – intrinsically free from locking by alternative parameterization

Ratschke

,

Nils

Parametric Analysis of Tensegrity-Membrane-Structures

Reksowardojo

,

Arka Prabhata

Large and reversible shape changes as a strategy for structural adaptation

Reynolds

,

Dan

Equivalent material modelling of complex additive manufactured conformal lattices

Rian

,

Iasef Md

Fractal dimension based computational morphogenesis: An application in designing a randomly folded spatial structure

Rodríguez

,

Andrés Miguel

Morphogenesis of continuous, efficient and complex architectural surfaces associated to crystal systems

Rombouts

,

Jef

On the equivalence of dynamic relaxation and the Newton-Raphson method: application to the design and analysis of bending-active structures

Rondeaux

,

Jean-François

Limit state analysis of 2D statically indeterminate networks using graphic statics

Rossi

,

Andrea

Aggregated Structures: Approximating Topology Optimized Material Distribution with Discrete Building Blocks

Rumpf

,

Moritz

Adaptable acoustic structures – design, detailing and fabrication of a fully parametric acoustic ceiling

Sakai

,

Yusuke

Discrete elastica model for shape design of grid shells

Saliklis

,

Edmond

20th Century 3D Graphical Analysis in the 21st Century: Statics and Kinematics

Samavati

,

Omidali

Mallow Domes

Scheffler

,

Tanja

Development and application of precast hyperboloid shells in East and West Germany from the 1950s to the 1980s

Schmeer

,

Daniel

Weight-optimized and Mono-material concrete components by the integration of Mineralized Hollow Spheres

Schmid

,

Fabian

Kinetic Lightweight Surface Elements: Composite Actuators

Schmidt

,

Angela

Architectural columns as a result of shape optimization

Schneider

,

Jens

Cold-bent thin glass laminates for architectural applications

Schramme

,

Kai

Sending Engineering Students Searching for the Interaction of Form and Structure using Parametric Design

Schulitz

,

Marc

Timber Grid Shell Exploration using Geodesic Segments

Schützeichel

,

Rainer

Paths to Form Finding: The formative years of Heinz Isler

Senatore

,

Gennaro

The Use of Variable Stiffness Joints in Adaptive Structures

Senckpiel

,

Tilo

Experimental and computational investigations on shell structures made of carbon reinforced concrete

Shepherd

,

Paul

Shell Design Considerations for 3D Printing with Drones

Siotor

,

Igor G.

Convertible Architecture with Lightweight Technology

Skov

,

Rasmus

Multi-objective room acoustics optimization of timber folded plate structure

Slabbinck

,

Evy

A conceptual framework for analyzing and designing bending-active tensile hybrid structures

Slabbinck

,

Evy

Torsion as a design driver in plate-bending-active tensile structures

Soto-Rubio

,

Mauricio

The Use of Physical Models to Teach Structures in Architecture School: A Pedagogical Approach

Sterling

,

Nicolas

The structure of the "Grand Théâtre de Rabat": from digital design to local fabrication

Stimpfle

,

Bernd

New Rome Convention Centre, "Nuvola" – Membrane Cladding

Stutzki

,

Christian

Performance Development of Gridshell Connections

Sumini

,

Valentina

Form finding of deep space exploration surface habitats

Suzuki

,

Seiichi

A comparative overview of generative approaches for computational form-finding of bending-active tensile hybrid structures

Tachi

,

Tomohiro

Capping Rigid Origami Tubes

Takeuchi

,

Toru

Seismic response evaluation of freeform lattice shell roof using amplification factors

Tang

,

Jingzhe

A brief introduction to the computational platform for finite particle method and its applications on structural and mechanism analysis

Tarczewski

,

Romuald

Robert Le Ricolais and Lech Tomaszewski: little-known records of engineering inspiration

Topbas

,

Ahmet

Seismic Design, Detailing, and Construction of the First Catalan Brick Vault and Domes of Istanbul

Trummer

,

Andreas

Precast Elements for Building the Future

Tschersich

,

Markus

Design and Construction of a Prototype Solar Updraft Chimney in Aswan/Egypt and Additional Wind Tunnel Tests

Tu

,

Yi-Hsuan

Design and fabrication of a small scale vacuum prestressed paper structure

Veenendaal

,

Diederik

Magnolia: a glass-fibre reinforced polymer gridshell with a novel pattern and deployment concept

Vegh

,

Petr

How building taller affects environmental compatibility

Vervloet

,

Jolien

Sandwich panels with Textile Reinforced Cementitious skins as new insulating wall system: a case study

Viscuso

,

Salvatore

Design and prototyping of a novel tridimensional panel using coated textiles

Walker

,

Martin

Bistable behaviour of creased thin metallic strips

Wang

,

Hao

Study on local minimum shape in shape optimization of free-form cable-stiffened single-layer latticed shell

Wang

,

Li

Cyclic Loading Tests of Structural Aluminum Alloy

Ward

,

David

Cable Erection of Miami Stadium Suspended Roof

Watanabe

,

Momoko

Building design using topology optimization method

Watson

,

Tim

Deployable Rotationally Symmetric Sliceforms

Wellershoff

,

Frank

Design optimization of glued-laminated timber freeform structures with multi-objective constraints

Woerd

,

Jan

ArchitecTours – A close look on structures around us

Woerd

,

Jan

Construction of a vault using folded segments made out of textile reinforced concrete by folding-in-fresh

Woerner

,

Mark

The technology of graded concrete – Interface between design and manufacturing –

Wolff

,

Kerstin

The limits in generating affordable residential space – a case study in Germany

Wolkowicz

,

Christian

The Sphere: Kazakhstan Pavilion for the Expo 2017 in Astana

Wu

,

Minger

Experimental study on semi-rigid behavior of two-way aluminum alloy gusset joints

Wu

,

Yue

Form-finding and construction of ice composite shell structures

Xie

,

Xiaokai

Stress monitoring of steel tension rods of a retractable roof stadium

Xu

,

Lingling

Effect of strain rate on seismic response of single-layer spherical reticulated domes

Xue

,

Suduo

Concept and Feasibility of Crossed Cable Supported Latticed Shell in the View of Preventing Disproportionate Collapse

Xue

,

Zhihao

Research on morphogenesis technique for free-form surface structures considering geometrical nonlinearity

Yamashita

,

Masaki

Topology optimization of 3D structures using Hamiltonian MPS method Improved ESO method

Yamashita

,

Tetsuo

Out-of-plane buckling of steel latticed walls subjected to cyclic shear deformation

Yang

,

Kai

Novel designs of tubular structures for energy absorption

Ye

,

Jun

Computational layout design optimization of frame structures

Ye

,

Jun

A grid generation procedure for the design of single-layer free-form structures

Yokosuka

,

Yohei

Form-Finding Analysis for Membrane Structures Based on Discrete Differential Geometry: Varification of Unit Stress Distribution

Yonamine

,

Hitoshi

Study on Basic mechanical properties of ETFE sealed Air Cushion Study of the Behavior under Partial Distributed Snow Load and Progressive Ponding -

Yoshie

,

Keisuke

The large membrane roof structure of Tokyo station "GranRoof"

Yoshinaka

,

Susumu

Impact test of an arch model using TMDs with initial displacement

Zhan

,

Yanyan

Universal equivalent static wind loads of large cooling towers considering reinforcement envelopes

Zhang

,

Chenhui

Effect of sleeved compression members on integral stability of reticulated shells

Zhang

,

Jingyao

Optimization of large-scale transmission tower using simulated annealing

Zhang

,

Jun-Feng

Wind induced dynamic effects on hyperboloidal cooling tower shells and the Equivalent Static Wind Loads

Zhang

,

WeiJing

Effects of Initial Geometrical Imperfection on Ultimate load of Single-Layer Cylindrical Reticulated Shells Under Severe Earthquake

Zhang

,

Yingying

Numerical simulation study on the seismic behavior of ring beams of joints of concrete fille

Zhao

,

Bing

An in-situ method for numerical simulation of inflatable membrane structure based on photogrammetric measurement

Zhao

,

Lin

Structural optimization of large cooling towers considering various distribution patterns of wind loadings

Zhao

,

Pengfei

Research on the multi-support response spectrum for large span structures

Zhao

,

Yuchao

Numerical Simulation of Glass-Fiber-Reinforced Polymer for Curved Facade Screen Panel

Zhong

,

Caimin

Numerical Analysis Method for Vibration Prediction of Proposed Building in Metro Operation Area

Zhou

,

Jinyu

Initial force design of a large-span stadium in Zaozhuang

Zhu

,

Shaojun

Experimental Research on Mechanical Property of Aluminum Alloy at Elevated Temperatures

Zhu

,

Zhaochen

Static stability analysis of the spatial structure based on the structural Eigen-stiffness
Vorschau herunterladen (PDF-Datei)


17.58 MB
Structurae kann Ihnen derzeit diese Veröffentlichung nicht im Volltext zur Verfügung stellen.
Über diese
Datenseite
Reference-ID
10077556
Veröffentlicht am:
20.04.2018
Geändert am:
30.09.2018