Little Belt Bridge
General Information
Project Type
Location
Technical Information
Dimensions
main span
600 m
width
31.2 m
total length
1 700 m
span lengths
9 x 31 m - 240.00 m - 600.00 m - 240.00 m - 11 × 31 m
clearance
42 m
on-axis distance between the main cables
28.1 m
deck
deck depth
3.00 m
pylons
girder depth
4.50 m
height from foundation level
112.2 m
Quantities
| | | |
| --- | --- | --- |
| cables | structural steel | 4 100 t |
| deck | structural steel | 12 200 t |
| overall structure | structural steel | 17 900 t |
| suspenders | structural steel | 200 t |
Materials
deck
steel

pylons
prestressed concrete
reinforced concrete

Case Studies and Applied Products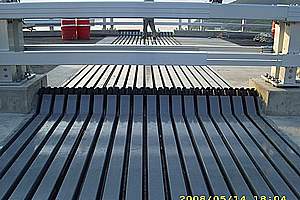 Modular Expansion Joints can be constructed for any movements, from about 100 mm up to 2,000 mm and more. They allow movements in all 3 directions and rotations around all 3 axes.
[more]
Participants
Design
Steel construction
Concrete construction
Cable steel supplier
Renovation (2002-2003)
Expansion joints
Relevant Web Sites
Relevant Publications
More publications...
About this
data sheet
Structure-ID
20004539
Published on:
17/08/2002
Last updated on:
21/04/2016